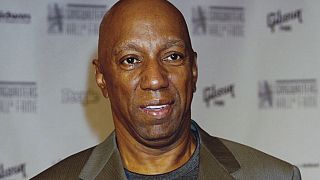 -
Copyright

Louis Lanzano/AP2004
There was a time when Barrett Strong was the voice of Motown, singing lead on the Detroit record company's breakout single 'Money (That's What I Want)'.
Strong went on to write some of the other genre-defining hits of the time with collaborator Norman Whitfield, including 'I Heard it Through the Grapevine', 'War' and 'Papa was a Rollin' Stone'.
The self-taught musician and songwriter from Mississippi died aged 81, the Motown Museum announced on Sunday.
"Barrett was not only a great singer and piano player, but he, along with his writing partner Norman Whitfield, created an incredible body of work," Motown founder Berry Gordy said in a statement.
Helping build Motown's foundation
Strong was not yet 20 when he agreed to let his friend Gordy manage him and release his music on his nascent music label. Within a year, he made history as the piano player and vocalist for 1960's 'Money', Motown's first major hit.
Decades later, Strong had to fight for acknowledgement that he helped write the hit single. He never reached the same level of success as a solo-artist, but he did become an integral part of Motown's later success as part of a productive songwriting team with Whitfield.
The Whitfield-Strong team turned out hard-hitting and topical works, along with timeless ballads like 'Just My Imagination (Running Away with Me)' and 'I Wish It Would Rain'.
Their song 'I Heard It Through the Grapevine' was a double-whammy, giving Gladys Knight and the Pips an up-tempo hit in 1966 and Marvin Gaye a moodier take when he covered the song in 1968. Gaye's version became one of Motown's all-time bestsellers.
Later in the decade, Strong helped Motown take on more political topics with hits like Edwin Starr's 'War', which became a protest anthem in the US against the Vietnam War.
Its refrain has been widely quoted by young activists: "War! What is it good for? Absolutely… nothing!"
Whitfield-Strong's other hits, mostly for the Temptations, included 'I Can't Get Next to You', 'That's the Way Love Is' and the Grammy-winning chart-topper 'Papa Was a Rollin' Stone'.
Artists covering their songs ranged from the Rolling Stones ('Just My Imagination') and Aretha Franklin ('I Wish It Would Rain') to Bruce Springsteen ('War') and Al Green ('I Can't Get Next to You').
Strong spent part of the 1960s recording for other labels, left Motown again in the early 1970s and made a handful of solo albums, including "Stronghold" and "Love is You."
In 2004, he was voted into the Songwriters Hall of Fame, which cited him as "a pivotal figure in Motown's formative years."
"Love don't pay my bills"
Strong's biggest hit also became his biggest headache, as he fought for songwriting credit for 'Money' later in life.
Initially listed among the writers, Strong learned decades later that Motown had removed his name from the credits, costing him royalties for a song that's been covered by the Beatles, the Rolling Stones and many others.
He had often mentioned in interviews that he came up with the song's pounding piano riff while jamming on Ray Charles' 'What'd I Say' in the studio.
Strong's legal argument was weakened because he had taken so long to ask for his name to be reinstated. Gordy, one of the song's credited writers, contended through his lawyers that Strong's name only appeared because of a clerical error.
"Songs outlive people," Strong told The New York Times in 2013. "The real reason Motown worked was the publishing. The records were just a vehicle to get the songs out there to the public. The real money is in the publishing, and if you have publishing, then hang on to it. That's what it's all about. If you give it away, you're giving away your life, your legacy. Once you're gone, those songs will still be playing."