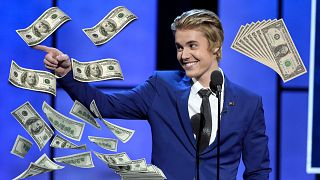 Justin Bieber has just sold the rights to his music to Hipgnosis, a music IP investment fund for $200 million (€184 million).
The deal means Hipgnosis now have Bieber's share of the ownership of his 290 song back catalogue. Owning the masters and copyrights of Bieber's music means they will be paid every time someone plays or wants to feature the star's music in media.
Although the fine details of the deal are unknown, the value was leaked by an AFP journalist and supposedly covers all his music released up to 31 December 2021.
Bieber's back catalogue includes multiple huge hits from his breakout single 'Baby' to his string of US #1 hits 'What Do You Mean?', 'Sorry', and 'Love Yourself'. It's not hard to see how lucrative the ownership of these songs could be to a company like Hipgnosis. And Bieber is hardly the first musician to think of it.
Bieber is just the latest in a long line of musicians to sell the ownership of their own music to Hipgnosis and another company Primary Wave. Hipgnosis have reportedly spent over $1 billion in acquiring song rights since 2018.
"If Donald Trump did something crazy, the price of gold and oil are affected whereas songs are not," Hipgnosis co-founder and CEO Merck Mercuriadis explained to Britain's Telegraph newspaper.
Some musicians desperately fight for ownership of their music. Taylor Swift has embarked on a project to re-record multiple albums just to wrestle back her possessions into her own hands after her music was sold to a similar company by Scooter Braun.
But for musicians who don't have to worry about that, chucking away their rights can benefit them with some pretty big payouts. For many of the musicians who've done it, they're looking at the tail end of a career and the sale is a way to guarantee the monetisation of their legacy for them and their children's futures.
Here are some of the biggest sales in music history:
Bob Marley - $50 million
One of the first big music purchases made by the music investment company Primary Wave. The 2018 deal to buy ownership of 80% of the late reggae singer's back catalogue made waves in the media as one of the biggest payouts of its type.
Whether it's the sort of financial move the writer of 'Redemption Song' would endorse is another matter entirely.
David Bowie - $55 million
Unlike most of the names to follow whose catalogues were bought in recent years, David Bowie first sold his music decades before. Always the trailblazer, isn't he?
In 1997, Bowie and investment banker David Pullman pioneered the concept of celebrity bonds, selling Bowie's music rights for 25 albums for a 10-year-period. Closer to $100 million in today's money, the sale meant Bowie forfeited royalties for the next decade. At the time it seemed a good deal, but it got even sweeter for Bowie with the advent of MP3 sharing, dropping the royalties he'd have received in the same period. He used some of the profits to buy songs that his former management owned and he didn't.
Since his death, the Starman's catalogue was sold to Warner Chappell Music in 2022 for $250 million.
Calvin Harris - $100 million
Many of the artists in this list made their names in the 60s and 70s. Like Bieber, Calvin Harris has grown a huge discography of hits in the 21st century. With over 150 songs featuring collaborations with basically every pop artist under the sun, he was able to sell his catalogue to Vine Alternative Investments in 2020 for a reported $100 million.
Not bad for a DJ.
Stevie Nicks - $100 million
Proof of the monetary potential for buying older star's catalogues couldn't be clearer than with Fleetwood Mac singer Stevie Nicks. The band's song 'Dreams' from 1977 album 'Rumours' jumped back into the charts thanks to a viral TikTok of a man skating and drinking cranberry juice.
Nicks knows the enduring value of her legendary oeuvre and managed to bag $100 million just to sell a majority stake in her songwriting catalogue that includes hits from 'Rumours' and other classic Fleetwood Mac songs to Primary Wave in 2020.
Red Hot Chili Peppers - $140 million
They may sound like absolute trash, but every time someone makes a TV show about California, their songs are too topical to not feature as background music. The desire for Hipgnosis to buy the irritating band Red Hot Chili Peppers' discography was no doubt a purely mercenary proposition.
It certainly worked in the rockers' benefit. They sold their ownership to Hipgnosis in 2021 for $140 million.
Paul Simon - $250 million
The half of Simon & Garfunkel without the hair but with far more hits post-duo, Paul Simon has an almost endless list of classic songs. From 'Bridge Over Troubled Water', 'Mrs Robinson' and 'The Sound of Silence' in the eponymous folk-duo to his solo hits 'You Can Call Me Al' and '50 Ways To Leave Your Lover', Paul Simon has a tune for every kind of mother in the land.
Sony Music Publishing agreed too, offering to buy his whole catalogue for a not-paltry $250 million in 2021.
Bruce Springsteen - $500 million
The singer-songwriter who personifies America more than any other man. Who else would embrace capitalism as well as the Boss.
Springsteen took a look at his 20-album discography in 2021 and thought better of having them line his dusty old pick-up truck, or wherever he keeps them. Much better to sell them to to Sony for a cool $500 million.
Bob Dylan - $620 million
He's 81 years' old, he has a Nobel Prize in Literature and many consider him to be nigh-on one of the best songwriters to have ever lived. What does he need to actually own his music for?
Dylan clearly agrees with the sentiment as in 2020 he sold the rights to his 600-song catalogue to Universal Music for a figure reported to be as high as $400 million. That's not all, just last year, he sold the rights to his master recordings to rival Sony for a further $220 million. Making our list's top total with $620 million.