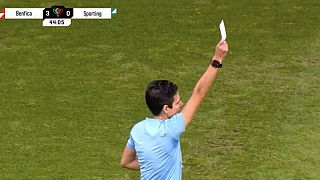 Football history was made on Saturday 21 January. 
For the first time ever, a white card was shown by a match official in Portugal.
If you're familiar with football, you'll be aware that referees traditionally have two cards in their arsenal: a yellow one (used for cautions) and a red one (used for permanently suspending a player from the game). 
So it may come as a surprise to many when an unprecedented white card was shown during a women's cup match clash between Sporting Lisbon and Benfica, in which Benfica won 5-0.
It has raised many questions online. Here's what you need to know. 
What's the white card all about?
The white card, also known as the "fair play card", was introduced by the Portuguese Football Federation and aims to promote sportsmanship. It immediately rewards positive behaviour on the pitch. 
The card made its first ever appearance just before half-time on the weekend, after referee Catarina Campos used it to reward medical staff from both sides after they rushed to the aid of a fan who had fallen ill in the stands.
As the card was shown to the medical staff, the crowd at Estadio da Luz rose to their feet in applause as the medics made their way back to the dugout.
Will we see the white card used elsewhere?
So far only Portugal has adopted the white card, and it remains to be seen whether it will be used in other countries and how fans would react if it was. 
In the past, a green card was implemented in Italy's Serie B league, and used during the 2018 Conifa World Cup, which is an international tournament for countries not affiliated with FIFA. 
In this competition, green cards were given for fouls that were considered to be between a yellow and red card offence. If a player received a green card, they had to leave the field immediately, but could be substituted if the team had not already made all their changes.
Cristian Galano was the first player to receive the first ever green card, when he indicated to the referee that a goal-kick should have been awarded instead of a corner. 
The recent use of the white card comes after the implementation of additional stoppage time at the end of each half in the Qatar World Cup. 
The practice was largely praised by football fans and allowed for actions such as time-wasting, treatment for injuries, prolonged goal celebrations, substitutions and VAR (video assistant referee) review to be accounted for.