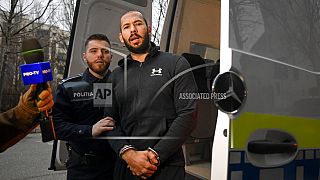 -
Copyright

Alexandru Dobre / AP
Ex-kickboxer and self-proclaimed misogynist Andrew Tate has claimed the Romanian state has no case against him in its investigation into accusations of human trafficking.
Tate, his brother Tristan and two Romanian women have been in police custody since 29 December pending an investigation on charges of forming a criminal gang to sexually exploit women, accusations they deny.
Last week, a Romanian court extended the internet celebrity's detention until 27 February. DIICOT, Romania's Directorate for Investigating Organized Crime and Terrorism, in Bucharest has identified six victims in the human trafficking case who were subjected to "acts of physical violence and mental coercion".
Prosecutors accuse the Tate brothers of recruiting female victims through seduction, taking them to properties on the outskirts of Bucharest and then physically and mentally intimidating them into sexual exploitation for profit on internet sites.
Prosecutors also accuse Andrew Tate of raping one of the victims in March 2022, which he denies.
"They know we have done nothing wrong," Tate has told reporters in his first comments since the arrest. "This file is completely empty. Of course it's unjust, there is no justice in Romania unfortunately."
These comments are in stark contrast to Tate's previous explanation for his move to Romania. 
When asked on a podcast for his motivation, "being able to evade rape allegations" was his response. 
"I'm not a rapist, but I like the idea of just being able to do what I want. I like being free," Tate continued.
Earlier this month, Romanian authorities said they had seized goods and money worth 18 million lei (€3.7 million), including luxury cars and properties as a part of the investigation.
"There is no evidence against me," Tristan Tate told reporters. "The authorities are planning to steal my cars and steal my money. That is why I am in jail."
Prosecutors have said the seizure was meant to prevent the assets being sold or concealed.
Earlier this morning, Romanian prosecutors conducted forensic searches of mobile phones and laptops belonging to the Tate brothers.
Tate has also publicly complained about the conditions of his prison cell, including "cockroaches, lice and bedbugs." He's claimed the cell has "no light" in correspondence to fans on his website.
The message reads: "They are trying to break me. Thrown inside a cell without light. Cockroaches, lice, and bed bugs are my only friends at night. When the guards bring me to and from the courtroom, I stay absolutely respectful. They try to pour hatred into my heart."