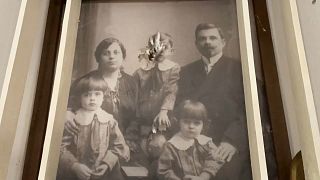 Curators in Ukraine are risking their lives to save their cultural heritage by moving thousands of exhibits from a museum that was damaged by Russian shelling.
From March to September last year Balakliya, which is an hour and half south of Kharkiv, was occupied by Russian forces. Soldiers broke into the museum during this time before the town was liberated in September. 
In June, a shell had landed near the building, damaging the roof and putting some of the exhibits at risk.
Olena Kuznietsova, acting director of the museum, said: "The walls, the window, the exhibits that were on display were damaged in this way."
To take the collection out of harm's way the curators are planning to transport all 12,000 items in the collection to Kharkiv Historical Museum.
They hope to rebuild their own museum after the war.
"We have also applied to UNESCO to allocate funds for the reconstruction of the museum," said Volodymyr Popov, Head of the Department of Culture of Balakliya City Council. " Then when we do it, God willing, the war will end as soon as possible, we will return all the exhibits to the museum."
To see the full report, click on the player icon above.