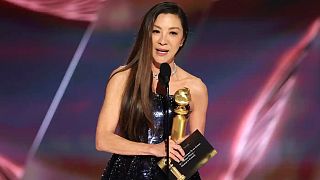 It was back-to-normal for the controversial Golden Globes last night, who after years of ethics, finance and diversity scandal, were televised for the first time since 2021.
The beleaguered award show sought to rekindle its pre-scandal glamour and the evening went about as well as it could have.
The most awarded film of the night was The Banshees of Inisherin. It was the most nominated movie of the ceremony and bagged a total of three awards, with Best Motion Picture Comedy or Musical, Best Actor in a Motion Picture Comedy or Musical for Colin Farrell and Best Motion Picture Screenplay.
It was a close call between Banshees and Everything Everywhere All At Once for Best Motion Picture Comedy, but Martin McDonagh's terrific tragicomedy prevailed.
Not that Everything Everywhere All At Once, the Daniels' daring and Dadaist take on the ubiquitous multiverse subgenre, went home empty handed. It got the first award of the evening, with Ke Huy Quan winning Best Supporting Actor in a Motion Picture. During his acceptance speech, he said that he was "raised to never forget where I came from and never forget who gave me my first opportunity," thanking Steven Spielberg in the audience for the role in Indiana Jones and the Temple of Doom. 
This was the first of two wins for one of the most beloved films of the season, with Michelle Yeoh winning Best Actress in a Motion Picture Comedy or Musical - who told the piano player playing everyone off far too early all evening what was what :
Seriously, it was a problem.
The other big winner was Steven Spielberg's beautifully made but ever-so-twee autobiographical family drama The Fabelmans, which won both Best Motion Picture Drama (beating Avatar: The Way of the Water, Elvis, Tár and Top Gun: Maverick for the night's top prize) and Best Director. 
Not that this is news, but this further emphasizes that the Best Picture Oscar race will be between The Fabelmans and Banshees. You can probably tell which side we're on… But more on that in a bit.
Elsewhere, Angela Bassett won Best Supporting Actress for Black Panther: Wakanda Forever, Austin Butler deservedly took home Best Actor in a Motion Picture Drama for his portrayal of The King in Elvis, and Best Actress in a Motion Picture Drama rightfully went to Cate Blanchett for her career-best performance (and that's saying something) in Tár. She wasn't there to accept the award as she is reportedly filming in the UK, but she remains Michelle Yeoh's stiffest competition at the upcoming Academy Awards.
The main snubs of the evening were Triangle of Sadness, Top Gun : Maverick, Netflix's Wednesday and Avatar: The Way of Water, who all went home empty-handed.
As for TV, The Bear, The White Lotus and House of the Dragon – three of our favourite 2022 shows – won big, as well as Yellowstone and Abbott Elementary, which rightly went home with Best Comedy Series.
You can scroll down to the bottom of this article for the full list of all the winners.
Before we get to the evening and who turned up and said what - first, one burning question…
When can European audiences watch these films ?
The good news is that you already can.
The majority of the major winners have already been released in cinemas, on DVD (if you're still fighting the good fight and continuing to buy what many are referring to as glorified shiny coasters) and on streaming platforms.
The Banshees of Inisherin is still playing in theatres in most European countries and is definitely worth your time. Martin McDonagh's brilliant black comedy is a funny and profound examination of a disintegrating friendship set against the backdrop of the Irish Civil War. It's a break-up folktale that features all of the director-writer's acerbic wit, pitch-perfect dialogue and acute observations when it comes to the knotty realities of relationships. 
As for Jenny the Donkey, what more is there to say other than a special award should really be created in her honour. 
Colin Farrell and Brendan Gleeson proved once again with this film that they are one of the great on-screen pairings of all time, following their turns in McDonagh's In Bruges, and after the stellar year that Farrell has just had (he was the best thing about The Batman and was excellent in the underseen After Yang), you can bet that an Oscar is just around the corner.
As for The Fabelmans and Tár, they're out in cinemas in the coming weeks.
Tár is released this week in UK cinemas (13 January) and continues its theatrical rollout in Europe during this month and February. It is Todd Field's first film in 16 years (a Terrence Malick-sized absence after 2006's Little Children) and doubtlessly one of the best films you'll get to see this year.
We won't spoil too much, as you can read our full review this Friday for Euronews Culture's Film of the Week, but we will say that Cate Blanchett is utterly captivating in the role of a world famous classical composer who is days away from recording her pivotal new piece. But trouble is looming…
It's a meticulously crafted and audacious character study about grappling with past sins and cancel culture, as well as a thriller about celebrity power. Don't sleep on it or miss its immersive grip.
Regarding The Fablemans, we'll once again tease you with a few lines before our full review at the end of the month, when the film comes out. It hits cinemas in most of Europe on 25 and 27 January, with further territories next month.
Spielberg's newest film is a handsomely made but somewhat disappointing autobiographical drama that has genuine moments of brilliance lost in a what feels like a stake-less and pretty saccharine lookback at how the director, as a teenager in the '50s and early '60s, launched himself as an obsessive filmmaker.
Considering Hollywood loves a meta narrative about filmmaking and rarely misses an opportunity to pat itself on the back when it comes to films celebrating filmmaking, you can bet that it'll win big at the Oscars in March.
Were the Golden Globes snubbed ?
One of the biggest questions regarding this year's 80th Golden Globes was: Who was going to turn up?
The industry seemed unsure if it should embrace or avoid the Globes' return: Tom Cruise previously gave his awards back and Brendan Fraser, nominated for his role in The Whale, boycotted the ceremony after an alleged incident of groping by a former member.
But when looking at the red-carpet turnout, a surprising amount of big stars actually turned up, including Sean Penn, who introduced - as has become his custom - a special video appearance from Ukrainian president Volodymyr Zelenskyy, who said that "the war is not over yet but the tide is turning."
Throughout the evening, stand-up star Jerrod Carmichael hosted the event with brio, becoming the first ever solo Black host of the Globes. 
He kept things light and didn't pull any punches: "I'll tell you why I'm here, I'm here cause I'm Black" he said at the beginning of the evening, calling the HFPA an "embattled white organisation" and joked that he took the job thinking they hadn't changed at all.
"I won't say they were a racist organization. But they didn't have a single Black member until George Floyd died. So do with that information what you will."
He even got in a few cheeky jabs at Tom Cruise handing back his awards :
So, is it forgive and forget and a new chapter for the Globes? 
Time will tell (as well as upcoming audience figures), but last night's evening seemed to be a step in the right direction. As long as they stop playing the piano and let people speak on stage…
Final thoughts
One final takeaway from the returning Golden Globes is that no one is over the Will Smith Oscar slap just yet.
There were several digs at the Slap Heard Around The World and the best one came from Eddie Murphy, who was accepting the Cecil B. DeMille award and gave some career advice that had everyone in stitches (skip to 2'00 mark):
Here is the full list of winners :
FILM :
BEST FILM (DRAMA) : The Fabelmans
BEST FILM (MUSICAL/COMEDY) : The Banshees of Inisherin
BEST DIRECTOR : Steven Spielberg, The Fabelmans
BEST ACTRESS (DRAMA) : Cate Blanchett, Tár
BEST ACTOR (DRAMA) : Austin Butler, Elvis
BEST ACTRESS (MUSICAL/COMEDY) : Michelle Yeoh, Everything Everywhere All At Once
BEST ACTOR (MUSICAL/COMEDY) : Colin Farrell, The Banshees of Inisherin
BEST SUPPORTING ACTRESS : Angela Bassett, Black Panther: Wakanda Forever
BEST SUPPORTING ACTOR : Ke Huy Quan, Everything Everywhere All at Once
BEST SCREENPLAY : Martin McDonagh, The Banshees of Inisherin
BEST NON-ENGLISH LANGUAGE FILM : Argentina, 1985 from Argentina.
BEST ANIMATED FEATURE FILM : Guillermo del Toro's Pinocchio
BEST ORIGINAL SCORE : Justin Hurwitz, Babylon
BEST ORIGINAL SONG : Naatu Naatu, RRR
TV:
BEST SERIES (DRAMA) : House of the Dragon
BEST SERIES (MUSICAL/COMEDY) : Abbott Elementary
BEST LIMITED/ANTHOLOGY SERIES or TV FILM : The White Lotus
BEST ACTRESS (DRAMA) : Zendaya, Euphoria 2
BEST ACTOR (DRAMA) : Kevin Costner, Yellowstone
BEST ACTRESS (MUSICAL/COMEDY) : Quinta Brunson, Abbott Elementary
BEST ACTOR (MUSICAL/COMEDY) : Jeremy Allen White, The Bear
BEST ACTRESS (LIMITED/ANTHOLOGY SERIES or TV FILM) : Amanda Seyfried, The Dropout
BEST ACTOR (LIMITED/ANTHOLOGY SERIES or TV FILM) : Evan Peters, Dahmer - Monster: The Jeffrey Dahmer Story
BEST SUPPORTING ACTRESS (DRAMA or MUSICAL/COMEDY) : Julia Garner, Ozark
BEST SUPPORTING ACTOR (DRAMA or MUSICAL/COMEDY) : Tyler James Williams, Abbott Elementary
BEST SUPPORTING ACTRESS (LIMITED/ANTHOLOGY SERIES or TV FILM) : Jennifer Coolidge, The White Lotus
BEST SUPPORTING ACTOR (LIMITED/ANTHOLOGY SERIES or TV FILM) : Paul Walter Hauser, Black Bird