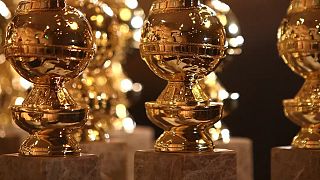 -
Copyright

Golden Globes
The 80th Annual Golden Globe Awards are almost here - tonight in fact - and they're trying to stage a Hollywood comeback.
After years of controversy and boycott, the award show will be televised for the first time since the Hollywood Foreign Press Association's racial exclusion scandal in 2021.
In February 2021, one week before the 78th Golden Globes broadcast, the Los Angeles Times ran an exposé that uncovered that there were no Black members among the HFPA's 87-member votership.
The backlash was swift: NBC decided it wouldn't air the telecast in 2022 and over 100 Hollywood publicity firms issued a joint statement pledging not to work with the HFPA until it took action. The doling out of statues last year was reduced to a 90-minute private event with no celebrities present at the Beverly Hilton Hotel, with winners announced on Twitter.
Now back on the air under a one-year deal, as opposed to multi-year contracts of the past worth tens of millions of dollars, the Globes will try to claw their way back to their former stature.
Here's everything you need to know about this year's Golden Globes.
Why is it back?
Amidst accusations of sexism, and ethical and financial lapses among members of the Hollywood Foreign Press Association, the HFPA has undergone some changes.
Their reforms included adopting new policies to address ethical conflicts and adding more diverse members to their voting pool.
There's now a strict code of conduct, refreshed bylaws, a ban on gifts and new rules on accepting travel and other perks from the industry. Contentious news conferences were dumped, and the pool of awards voters was expanded beyond the 87 Los Angeles-based foreign journalists who once ruled the organization.
Heading into this year's telecast, Globes voters stand at 52% female, and 51.8% racially and ethnically diverse, including 19.6% Latino, 12.1% Asian, 10.1% Black and 10.1% Middle Eastern. Voters also include those who are LGBTQIA+. In all, 62 countries are represented.
The governing board was expanded from nine to 15 and includes three Black members, two of whom vote on rules and other matters but not awards. Overall, the organization now has six Black HFPA members and 14 Black international Globes voters who aren't members.
Another significant change is that The Globes were purchased by billionaire Todd Boehly, who also owns Globes producer Dick Clark productions and the Chelsea soccer team and is an investor in the Beverly Hilton. He's shifting the voting body from its founding nonprofit status to a for-profit model, pending approval by the California attorney general. He plans to preserve the HFPA's charitable work with a separate nonprofit entity.
Whether or not that's enough to forgive and forget remains to be seen. Hollywood does love a comeback story, but what's certain is that the organisation is clearly aware that it's make-or-break time for them this year.
Can they salvage their reputation?
HFPA has always been derided and the subject of criticism for its lack of diversity and accepting gifts from nominees, thereby leading to some baffling nomination choices over the years.
Helen Hoehne, president of the HFPA, told Variety recently that the upcoming show will be "a chance for us to come back to NBC and showcase our unique relationship with our audience and the world."
Stressing how important it was to uplift this year's roster of nominees, she explained how the telecast will undoubtedly function as a rebranding of sorts: "The media landscape continues to shift," she added, "and our only goal is to provide a unique, unbelievably entertaining show. We want to continue to grow, and honor our commitment to diversity, equity and inclusion."
Regarding ratings, it's not looking good. The 2021 show was watched by 6.9 million (down from 18 million in 2020) and it'll be interesting to see if the general public continue to deem this awards show as irrelevant and not worth their time.
Will the stars show up?
The HFPA's attempt at a comeback has led many stars and studios to boycott this year's event, and we'll know soon enough who sticks to their guns.
On the whole, the industry seems unsure if it should embrace or avoid the Globes. However, some big names have been announced as presenters. They include: Ana De Armas, Billy Porter, Jamie Lee Curtis, Natasha Lyonne, Quentin Tarantino, and Tracy Morgan.
Eddie Murphy and Ryan Murphy will presumably be in attendance as they will respectively be receiving the Cecil B. DeMille award and the Carol Burnett Award, the television equivalent of the Cecil B. DeMille Award.
One big name not showing up this year, however, is Brendan Fraser, who has said that he would not attend the ceremony despite his Best Actor nomination for his role in The Whale. He has alleged that he was sexually assaulted in 2003 by former HFPA president Philip Berk, who has denied the allegation.
Who is hosting?
Comedian Jerrod Carmichael will be hosting the ceremony this year. 
The 35-year-old star of The Carmichael Show will be taking over from Amy Poehler and Tina Fey, who helmed in 2021.
Who are the frontrunners?
The top films in the Best Drama race are Avatar: The Way of Water, Elvis, The Fabelmans, Tár and Top Gun: Maverick.
Leading the way for Best Musical or Comedy are Babylon, The Banshees of Inisherin, Everything Everywhere All at Once, Glass Onion and Triangle of Sadness.
The main one to look out for this year is Martin McDonagh's terrific tragi-comedy The Banshees of Inisherin, which has emerged as a clear frontrunner.
It has picked up eight nominations: Best Picture – drama or comedy, as well as Best Director, Screenplay, Leading Actor in a comedy or musical (Colin Farrell), Supporting Actress (Kerry Condon), twice for Best Supporting Actor (Brendan Gleeson and Barry Keoghan) and Best Score. All deserving nods for one of our favourite films of 2022.
Close behind is Everything Everywhere All At Once, which picked up six nominations, followed by Babylon and The Fabelmans with five.
Everything Everywhere All At Once should win big, but it would be foolish to bet against Steven Spielberg and his handsomely made but dispiritingly saccharine autobiographical drama The Fabelmans.
See the full list of 2023 Golden Globes nominees here.
The 80th Annual Golden Globe Awards will take place on Tuesday 10 January at 8pm ET / 5 pm PT / 2am CET and will air on NBC and streaming service Peacock.