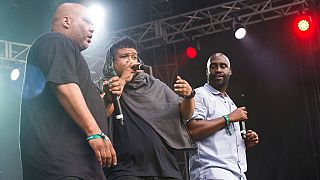 -
Copyright

Charles Sykes/Invision/AP
The legendary US rap group De La Soul are putting their entire back catalog online ending one of music's longest running disputes over sampling and legal issues.
The hip-hop trio gained international fame back in 1989 with their debut album "Three Feet High and Rising" and despite releasing several top selling LP's over the past three decades, much of their work has only been available on vinyl, CD or cassette.  
Reservoir Media has now acquired the rights to their work following its takeover of Tommy Boy Records and will distribute the catalog via its Chrysalis Records, which means the music can be downloaded legally for the first time on March 3.
In a statement, the firm says: "The Reservoir and Chrysalis teams have worked with De La Soul, and their record label, AOI, to bring their music to digital streaming services. Reservoir is pleased to share that De La Soul's first six albums, '3 Feet High and Rising' (1989), 'De La Soul Is Dead' (1991), 'Buhloone Mindstate' (1993), 'Stakes Is High' (1996), 'Art Official Intelligence: Mosaic Thump' (2000), and 'AOI: Bionix' (2001), will be available to fans everywhere March 3rd , 2023, on the 34th anniversary of the release of their debut album, '3 Feet High and Rising'.