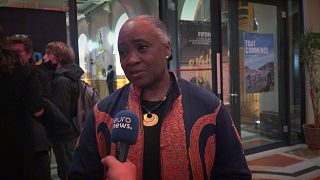 Featuring a remarkable lineup and eyewitness accounts from across the world, the International Film Festival and Forum on Human Rights is a unique opportunity to talk about all human rights violations through cinema, fiction, documentaries, and news. Cinema went to Geneva to check it out. 
The fight for rights
For the last 20 years, the International Film Festival and Forum on Human Rights (FIFDH) in Geneva has been bringing together artists, activists, journalists, and eyewitness testimonies to denounce human rights violations.
Since its inception, American opera singer, Barbara Hendricks has been one of the festival's patrons. She's also an Honorary Lifetime Ambassador of the United Nations High Commissioner for Refugees.
"Well, it's all on one cause, we are all one people and it's all human rights for everyone, all the time. So, it's manifested itself in different ways, but it's only one cause, that we are all members of the same family of humanity. So we can also stand up and resist what's going on in Ukraine," Hendricks told Euronews.
The festival's many films and forums are open to the public. For Belgian journalist and writer Christine Ockrent, the festival in Geneva is an unmissable event.
"Given the chaos in the world, it's essential that there's a place, a sort of hub where everyone can meet, and it's obvious that the international situation right now is such that here, on the shores of Lake Geneva - surrounded by Russian oligarchs, who have large properties in Switzerland - we feel particularly concerned, obviously," Ockrent said. 
"We stand with Ukraine"
An entire evening was devoted to the war in Ukraine and featured the 2020 documentary film, The Earth is Blue as an Orange. Filmed in Donbas, it exposes the daily trauma of living in a war zone and won the Directing Award at the Sundance Film Festival. 
French-Cambodian director Rithy Panh is President of the documentary competition at FIFDH.
"I think that every film is basically political. If it's not political, it is a bit bland for my taste. I actually like documentary films a lot, they are always questioning democracy, freedom, suffering. Defence of human dignity demands that we sit down and discuss this together," Panh said. 
Running until Saturday 13th of March in Geneva, all the debates and many films can be watched on the festival's website.