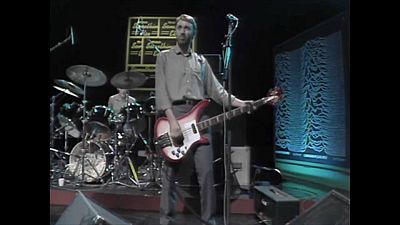 It's 40 years since Joy Division made their live debut at Pips Disco in Manchester. Out of the industrial gloom of Northern England came one of Britain's most influential bands. Bass player Peter Hook recounted their career in the biography of Joy Division, but he also took Euronews back to the day it all began.
"I do remember it very well. We had much trouble with our name towards the end of the year before. There was a group in London called Warsaw Packt and it meant that we had to change our name."
"Ian Curtis was reading a book called 'The House of Dolls' and he picked the name from that book, which was Joy Division."
"We were scheduled to play at Pips as Warsaw and we had to change it in the last minute to Joy Division which didn't help our dwindling audience figures."
"Mostly the people that were there that night were our friends. Because our friends, let us say, were very colourful characters it ended all in a massive fight."
"Ian Curtis himself actually got thrown out of the venue for kicking glass on the floor. A doorman, the security, took great exception and threw him out. We had to go beg to get him back in."
"So by the time we came to play the concert we were very very nervous and shellshocked shall we say."
"Hopefully it will carry on and I think its a great compliment to all the members of Joy Division that we are still as popular or miles more popular than we were on that 25th January (1978) when we played at Pips." 
The group became a bridge point between Punk in the mid-70s and the rise of more "mainstream" electronic music in the following decade. And their popularity stood the test of time, continuing to gain fans among younger audiences.
For about eight years, Peter Hook has played in a new band called 'The Light', bringing the music of Joy Division back to the stage, something 'New Order', the band that became the group after the suicide of Ian Curtis May 18, 1980, had never done. The success and celebration continues.
This year, they go on tour across the United States. In June they return to the British stage and in September Peter & the Light will be in Germany.
"It's a way to continue to pay tribute to Ian".