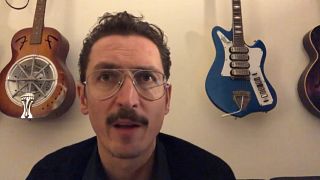 Paulo Furtado, otherwise known as The Legendary Tigerman, has come a long way from his native Portugal, not known for producing big rock and roll acts.
"Misfit" is the title of his sixth solo album, recorded at Ranch de la Luna in Joshua Tree, and "Fix of Rock 'n Roll" is the first single.
"It all actually started with this film 'Fade Into Nothing' which was developed by myself, Pedfro Maia and Rita Lino. It's a road movie between Los Angeles and Death Valley about the quest of a man and his urge to become nothing," said Furtado exclusively to euronews.
"We're starting the tour in France -- we're gonna hit Paris soon. Then we're coming back to Portugal to do a month and a half tour all over the country. Then we go back in Europe. We're gonna play UK and most of cenral Europe. The record is gonna be out in the rest of Europe in April also in South America and probably in the US too."
The Legendary Tigerman has played in a psychobilly and then a blues band, but mostly as a solo artist. He has toured with Jarvis Cocker and fronted huge tours of his own. Aged 47, he has become an established name on the international concert circuit, and a valued contributor to a host of other projects.