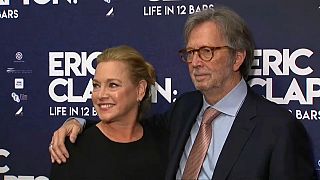 The life and times of legendary guitarist Eric Clapton is the gripping subject of a new documentary by his longtime friend Lili Fini Zanuck, the Oscar winning producer of "Driving Miss Daisy".
The film explores the 72-year-old British musician's career on and off stage and is told by those who've known him best; among them stars such as BB King, Jimi Hendrix and George Harrison.
But the film is far from being a light amble down memory lane. It's also a warts and all look at the darker side of Clapton's life and Zanuck doesn't shy away from dealing with his 20-year long battle against drug and alcohol addiction. In one clip Clapton admits, 'The only reason I didn't commit suicide was the fact that I wouldn't be able to drink any more if I was dead.'
The 1991 death of his son Conor, in a fall from a New York high-rise, was the trigger to sobriety.
With hits such as "Wonderful Tonight", "Cocaine", "Tears in Heaven", and "Layla", Clapton has won 17 Grammy Awards, and was inducted into the Rock and Roll Hall of Fame in 2000. He was ranked No. 2 on Rolling Stone magazine's 2015 list of 100 greatest guitarists of all time, behind Jimi Hendrix.
Clapton: Life in 12 Bars is out now in the UK.