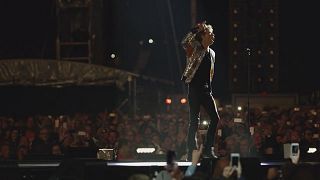 The Rolling Stones have played their first gig of the year and this time, they're back in Europe.
Opening in Hamburg, the sell-out No Filter Tour takes the British band through the continent, before wrapping up in Paris in October.
Thank you Hamburg what an incredible opening night you gave us! #StonesNoFilterpic.twitter.com/UHNxHTdeuf

— The Rolling Stones (@RollingStones) September 9, 2017
Tickets were rumoured to cost between 99 and 800 euros. Fans of the Stones will be no stranger to high prices. In 2012, tickets for their 50th anniversary '50 and Counting Tour' reportedly cost up to 400 euros each, a decision the band defended when criticised:
"We've already spent a million on rehearsing in Paris. And the stage is going to be another few million. And the lights.
"We feel no bad thing about ticket prices. We've got to make something," said Ronnie Wood.
Back in 1969, Rolling Stone Magazine highlighted the rockers' prices prices in a preview of an upcoming US tour. It claimed that both the lowest- and highest-priced tickets were more expensive than other concerts at the same venue. At today's rate, the cost would be around 48 euros for the top-priced seats.
It led Ralph Gleason, a journalist at the San Francisco Chronicle, to demand:
"Can the Rolling Stones actually need all that money?"
But, back to 2017… The audiences are in for a treat as 'No Filter' will, in the Stones' own words, see them play "a couple of unexpected tracks each night." In Hamburg they revived 'Play With Fire' 27 years after they last played it live.
And the band has reserved one spot at each gig for a fan-voted track. At Hamburg it was the classic 'Under My Thumb', which they hadn't performed live since November 2006.