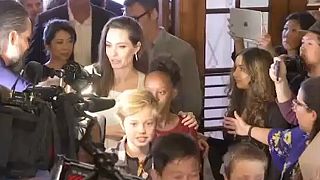 Oscar-winning actress Angelina Jolie showed up at the Toronto Film Festival with four of her six children for the Sunday (Sept 10) premiere of The Breadwinner, on which she's executive producer.
The animated film is based on the best-selling novel by Deborah Ellis, about an Afghan girl who dresses up as a boy to support her family after the Taliban jail her father.
Jolie called it a "wonderful story for children."
It "tells the sad reality of many girls having to work and not go to school," said Jolie, who has made several trips to Afghanistan.
"The people I have met over the years are truly my heroes. The nice thing about being a director is to champion other people."
George Clooney came to present Suburbicon, the movie he directed based on a script co-written with the Coen brothers.
Set in the 1950s in an imaginary suburb with manicured lawns, it depicts the raging efforts of the neigbourhood's white residents to oust a black family, after blaming them for a deadly break-in.
The movie, starring Matt Damon and Julianne Moore, was inspired by real events when the Myers family was harassed by white neigbours in Levittown, Pennsylvania, in 1957.
Suburbicon comes off as a dark satire of the American dream, and Clooney has described it as an "angry" movie for an angry country.
But the movie has collected mixed reviews, with some critics pointing out it's hard to embrace satire when reality starts looking so similar.
"When we started working on it we were looking at discussions about building fences and scapegoating Mexicans and Muslims, and that's sort of what this was focused on," Clooney told Reuters on Saturday (September 9).
"I don't think any of us had the slightest idea that we'd end up with, with these race riots in Charlottesville," said Moore.
"Things that we thought wouldn't happen again in the United States are happening again. So it forces us to take a look at our behaviours."