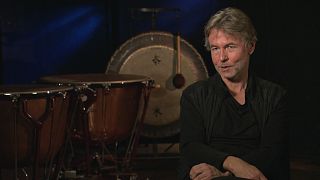 Esa-Pekka Salonen has been dividing his time between conducting and composing, two very different worlds.
His latest masterpiece, which premiered earlier this year in Chicago, was composed for his long time friend and peerless cellist Yo-Yo Ma.
"All my concertos are written for friends. The very thought of the personality of the soloist is very inspiring and it's fun; says the Finnish conductor-composer.
Slow burn
"It makes the work feel less lonely. That's what composing is: you sit in a room, you see nobody, you talk to nobody, so the idea of mentally communicating with a friend is very therapeutic.
"Composing is of course really slow burn. It's like a marathon as opposed to the 100 metres. And it's lonely and sometimes unbelievably frustrating because sometimes days go by and you feel that you're not achieving anything.
"And then, there are the necessary pauses, that kind of fermentation moments when you know that you shouldn't actually sit down and write something because you have to process it. You have to let things sit."
The art of composing
"… and of course, conducting is intensely social. I communicate with a 100 people and try to focus their minds, make them unified in expression and so on.
"The difference between that intense social collective experience to that loneliness is massive. Sometimes I find that difficult to cope with.
"I remember when my son was six or something like that, he was lying on the sofa doing nothing and I said, 'so what are you doing?' He said: "I'm composing."