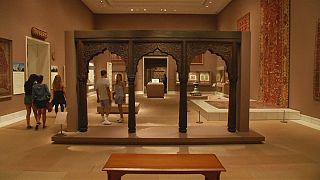 A new light is being shone on centuries-old pieces of art from the Middle East at New York's Metropolitan Museum of Art.
The museum is hosting 10-minute gallery talks focusing on Islamic art, described by staff as "counter discussions" about regions in the news for negative reasons.
The tours focus on the seven countries that are on President Trump's contested list for a travel ban.
The head of the Islamic art department at the museum, Sheila Canby, said: "Many ideas about science, mathematics, and other things come from scientists in the medieval period in the Middle East.
"Baghdad is a prime example – an absolute centre of knowledge in the eighth and ninth centuries. And I think people don't know that, they're not taught that in school."
A Houston resident who took part in a tour, Margie Anderson, said: "I feel like the more push-back that we're getting – that that part of the world is bad, and those people are evil – I look at enjoying and understanding and learning about this art as just kind of a political act.
"It just makes me want to enjoy it and appreciate it even more."