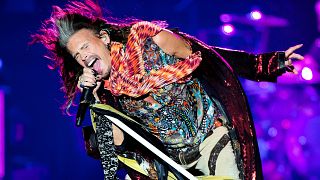 Aerosmith, on a farewell world tour that will take in some prime soft targets for terrorists have no intention
of turning the volume down. They've issued a defiant group video insisting nothing will stop them rocking, or
protecting their fans.
"You know it's a hard question to answer because we love to play and we love to give people joy and we also
know what the world is like today and what people like to take advantage of to get their point across," said singer Steven Tyler.
"You know our first reaction is we shouldn't play and put our fans in danger but I don't think our fans want that either. They don't want to live like that. I don't want to live like that. We don't want to live like that. So it's take all the precautions you can. And that's the world you know," said guitarist Joe Perry.
America's best-selling hard rock band of all time, with 150 million album sales worldwide, cease live tours after this one, so catch them while you can.