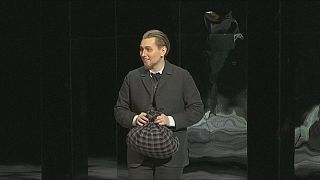 Moscow's famous Bolshoi Ballet is staging 'The Idiot' which is based on Fyodor Dostoyevsky's novel.
The opera was written by Mieczysław Weinberg a Polish composer of Jewish origin who lost most of his family in the Holocaust.
Bolshoi Theatre first introduced the opera Mieczyslaw Weinberg's "The Idiot" by Dostoyevsky. The composer wrote music to many Soviet films. pic.twitter.com/WECNVEgTEg

— Mr. Vladimir Ivanov (@filmmakerIVANOV) February 12, 2017
The well-known story centres on the 19th century impoverished Russian aristocrat Prince Myshkin, misunderstood and outcast from society.
Bigdan Volkov alternates in the lead role with Stinislav Mostovoy.
"Every person is a pure child inside in a good sense. Everyone can feel the same kind of alliance with him, as I do – so Prince Myshkin is just a simple person, the most ordinary person without any supernatural features," explained the tenor.
Many critics compared the character of the prince with Jesus Christ, pointing out his profound philosophy of compassion and ability to feel the pain of others.
Piotr Migunov plays the bad guy, Rogozhin.
"I am a humble civilised person, but here I have to play a completely different type of person. Stunning costumes and makeup help me in that and the work of the director with me. But the thing that helped me the most is the music of Mieczyslaw Weinberg as in his music he showed all the complexity of this character," he said.
The stage is split into three abstract areas, where the events of the novel can develop simultaneously. This preserves the original idea of the composer. But the opera is also respectful of the text of Dostoyevsky's novel.
"I am certain that the text of the novel was very important to Weinberg when he wrote the opera. And the literature material of Dostoyevsky was very important. And it is very important to me to realise Fyodor Dostoyevsky on the stage after all and with the music by Weinberg," stressed the director, Yevgeny Arye.
Mieczyslaw Weinberg is considered to be amongst the greatest Soviet composer, along with Sergei Prokofiev and Dmitri Shostakovich.
When he died in 1996 at the age of 76 he left a large body of work that included twenty-two symphonies and seventeen string quartets.