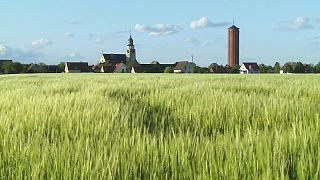 How many times have you heard, when you suggested a new idea, "that's impossible, it is Utopia"?
Those words echoed round the town hall in the village of Ungersheim in north-eastern France many times. But it didn't stop people from moving forward.
The French documentary "What are we waiting for" focuses on the daily life of a village in transition moving to self sufficiency in energy and food.
In the early 20000's, the mayor of the village which is in Alsace set out a list of 21 objectives. One of the priorities was the creation of a farm to produce food without pesticides to supply the population and the school canteen. The project has provided employment for those who were out of work.
This politically engaged documentary by Marie-Monique Robin shows the viewer that the secret of villages in transition is solidarity. Many of the villagers when asked how the felt said they were happier, more motivated and not as lonely.
Another ambitious project of the village was the construction of a plant producing electricity from photovoltaic panels to reduce its dependence on oil.
The director has opted for a simple and direct style.
In this film, there is no gifted hero, nor an idealistic vision of society, the viewer just sees people who have decided to take their fate into their own hands. That's why "What are we waiting for?" Is a breath of fresh air.