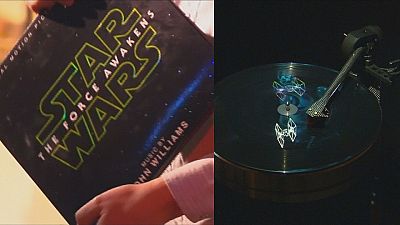 Star Wars fans, rejoice: John Williams' score for the latest episode, 'The Force Awakens,' has received a unique treatment thanks to a holographic artist.
It's one of these sagas that's inextricably linked to the material items around them

Metal Hammer editor-in-chief
Hologram vinyl copies of the film's soundtrack were unveiled in London's Abbey Road Studios, featuring 3D etchings of famous Star Wars spaceships.
The holograms show both Imperial Tie Fighters and the Millennium Falcon and were hand drawn by Tristan Duke, who specialises in laser holography.
"Star Wars is literally what made holography a household word and so most people I know when I tell them I make holograms they say, "Oh! Like Princess Leia?" So, it's a real honour as a holographer to give something back to that story and that vision," Duke said.
Amazing #StarWars hologram records: https://t.co/dmXEsjyVP7

— James Yorke (@BecomeKnown) June 8, 2016
Since George Lucas launched the Star Wars film series in 1977, the franchise has become something of a cult worldwide, with a huge fan base eager for such collectibles.
"It's one of these sagas that's inextricably linked to the material items around them," said Metal Hammer magazine editor-in-chief Alexander Milas. "The toys, the memorabilia and I think this resonates so deeply with 'Star Wars' fans because it not only has the holograms that people know from the films, it's actually just one of these incredibly collectible things that can resonate with people who might have grown up collecting the toys themselves."
Duke said he carved micro-reflectors into the mastered vinyl to create the holograms using an illusion of depth. The 3D drawings of hovering spacecrafts can be seen with a focused light such as a torch.
The collectible vinyl, available from June 17, comes with a price tag of just under 45 euros ($50).