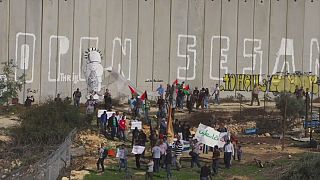 An Israeli documentary called "Disturbing the Peace" has been following groups of Palestinian and Israeli peace activists as they attempt to find what many assume is impossible in the Middle East: reconciliation.
It shows the two sets of activists from a group called "Combatants for Peace" walking on either side of the Berlin-style wall that separates the West Bank from Israel.
Former combatants, either as Israeli soldiers or as Palestinian fighters, they're on the same ideological side now, only there's still a great wall dividing them and their communities and hindering their work.
Ironically one of the activists, Palestinian Shifa al-Qudsi, has been banned from attending the Jerusalem Film Festival where the documentary is being shown because she was once a Palestinian fighter.
It's particularly frustrated the group that she now works for, Combatants for Peace, which is featured in the documentary.
"If they don't let her enter how are people in Israel to get to know the voice of peace within the Palestinian society? Nelson Mandela said that you have to make peace with your enemies. Shifa was our enemy and now she can be our friend. If we don't reach out for that hand we will lose it," said Udi Gur, the Israeli Coordinator of Combatants for Peace.
Al-Qudsi spent six years in an Israeli prison but now lives in the West Bank town of Tulqarem.
"The permit was denied by the security department in Israel; I don't know the reason. Since I got out of prison, I have been calling for peace," she said.
Co-directed by filmmakers Stephen Apkon and Andrew Young, "Disturbing the Peace" is to be presented in other international film festivals around the world and set to reach cinemas later this year.