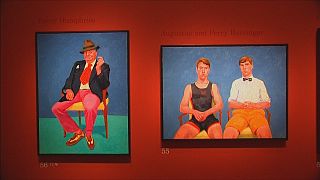 British artist David Hockney has returned to the Royal Academy of Arts in London with a new exhibition titled Eighty-two Portraits and One Still-life.
This new body of work sees the artist revisiting the genre of portraiture which has played a major part in his career.
It offers an insight into Hockney's life in Los Angeles and his connections to the art world.
"Portraiture has been so important to his career, says Edith Devaney, Curator at the Royal Academy of Arts.
"I mean even as early as 1954 he was doing portraits of, self portraits as well as of his family, so it's always played a part.
"He's intensely interested in people and he loves the company of people and I think bringing all of these people to Los Angeles was a very important thing.
"He's also interested in what the camera has done to our perception of the portrait and in a way he's challenging that here. You know he calls these for example 'a twenty-hour exposure' which is a wry comment on photography."
Hockney a painter, draughtsman, printmaker, stage designer and photographer has always tried to push his artistic limits
"He's got that intense curiosity, and not just curiosity about the world around him and how he can depict it but also in art history," Devaney adds.
"And you know constantly looking back at old masters, constantly reading about them, and all of that feeds into his work.
"And he's always looking at ways of challenging himself and I think that's a sign of a great artist is you know 'what can I do next that's going to be quite difficult for me?.'"
Each of his subjects are painted in acrylic, on a canvas of the same size and in the same chair with the same background.
They comprise friends, family and acquaintances including Celia Birtwell, Frank Gehry, Barry Humphries and well as his siblings John and Margaret.
The exhibition is showing at The Sackler Wing at The Royal Academy of Arts until beginning of October.