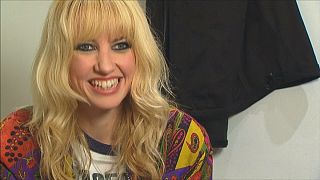 Ladyhawke is back with a brand new album and a brand new life.
After a four-year break, the New Zealand born singer-songwriter roars back on stage with "Wild Things" – an upbeat album reflecting her much happier state of being. She is now married and sober.
She said recording this third album was only possible after she made some "massive changes" in her life.
"Before I'd made those changes, I was struggling to write songs, you know. I was writing dark material and wasn't happy with anything I was doing and just didn't feel right. I've sort of let go of a lot of my anxieties about the past that I used to have. I think not drinking is a massive reason of how I've managed to let go of those things.
Ladyhawke: 'I was always drunk on stage. It's how I hid my anxiety' – The Guardian https://t.co/t6ja5zkXuL

— Kings of Leon Fans (@kingsofleonfans) June 9, 2016
Born Philippa Brown, Ladyhawke shot to fame in 2008 with a first album and five hit singles including the chart topper 'My Delirium.'
Today the 36-year-old says the music industry can be brutal, and she's set up her own label to work on projects close to her heart.
"Countless peers of mine and musicians in the same position as me have had unfortunate experiences or been taken advantage of in one way or another, contracts, you know," she said.
"It's the boring old story but it's the reality of it and I think if you're a young artist, you need to have a good team around you and really be… read your contract for starters. Make sure you have the best lawyer and make sure the lawyer doesn't work for the record company."
"Wild Things" is out now and Ladyhawke's tour will take her through the US, Australia and New Zealand.
Really excited to be playing Caloundra Music Festival this year! See you there! Tickets https://t.co/9cbqbqndCMpic.twitter.com/2UIVtFRr2J

—

LADYHAWKE

(@ladyhawkeforyou) June 22, 2016