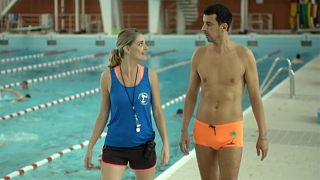 The Cannes screening of French-Icelandic rom-com 'The Together Project', was tinged with sadness as it came less than a year after the premature death of its director, Solveig Anspach.
The third and final installment in an offbeat comedy trilogy, it tells the story of Samir, who falls head-over-heels in love with Agathe.
When he finds out she is a swimming teacher, he enrolls for lessons at the pool where she works – pretending he can't swim. But she soon finds out he is lying and writes him off as a fake.
The plot then takes Agathe to Iceland for a convention, where, stopping at nothing to prove her his love, Samir follows her.
While it features all the tried and tested rom-com themes, 'The Together Project' bears Anspach's trademark wacky sense of humour, offering some truly laugh-out-loud moments.
The film's success also relies on spot-on performances by the two main protagonists, whose on-screen and underwater chemistry works wonders, as well as a top notch supporting cast.
Water also plays a major role in this movie, melting away the barriers between defensive Agathe and timid Samir, in some very tender aquatic scenes.