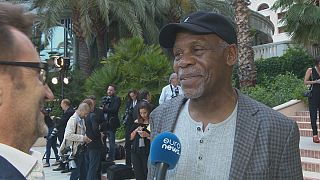 Stars of the big screen and lots from the little screen turned out en masse for the 56th Monte Carlo TV Festival.
I always say that we are making a mini movie almost every single week

Actress
During five days, Monaco surfed a TV wave. It was an occasion to meet actors from an array of global television series, including some of the classics. While TV watching habits are changing, series are becoming more and more popular. So what's the view from within the industry? Actor and director Thomas Gibson says TV is luring top talent.
"It's true that there is definitely a sort of renaissance of interesting television and I think it's attracting some of the best writing, and the fact that the format has been adapted and you can take a season of a serie and make four episodes or eight or 12. We are still doing the old model which is 22 or 24, so it's a factory."
#Photos | Brian, Colin et Torrey sur le tapis rouge d'ouverture du Festival TV de Monte Carlo, 12 juin. #2 pic.twitter.com/oqyS3iRl7J

— Chicago Med France (@ChicagoMedFR) 13 juin 2016
This year has brought new offerings such as Chicago Med, a spin-off from Chicago Fire and Chicago PD. Also present at the festival were cast-members from The Flash, including Candice Patton.
"I think we are in the golden age of television and the quality of TV is so high, especially for superheroes shows," said Patton. "I always say that we are making a mini movie almost every single week, the special effects and the visual effects are, you know, the best they have ever been on TV. Yes, the lines are blurred between the quality of film and TV."
The Flash is a superhero series inspired by the character from DC Comics. Two seasons have been made and a third is underway.
Top attraction at this year's festival was Danny Glover, president of the jury. The Lethal Weapon star remains as engaged in his art as ever.
"You will never retire?" our reporter Philippe Mathieu asked Glover as he stepped onto the red carpet.
"I'm not thinking about it, no it's not something that is on my agenda right now," he laughed in reply.