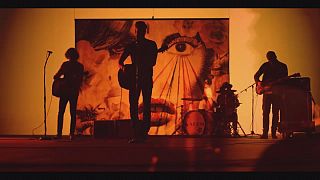 While Björk may be Iceland's best-known musical export, four-piece rock band Kaleo are making waves in the US with their bluesy rock sound.
The group, whose name means "the sound" in the Hawaiian language, released their self-titled debut album in Iceland in autumn 2013. Two years later Kaleo signed with Atlantic Records and moved to Austin, Texas. Their popularity grew quickly in America, leading to the release earlier this month (June 10th) of their new album "A/B"
"It all happened really quickly," says singer JJ Julius Son. "We kind of formed the band in November of 2012 or something and we released this Icelandic song called 'Vor í Vaglaskógi' in like spring of 2013. And it just took off and it was like the most-played song on radio that year. And followed up with an album and just tremendous success. Very fortunate. So we have been very lucky. It's pretty much been an adventure since then, you know."
Growing up on the Atlantic volcanic island Julius Son dreamed of the American South: "I am very influenced by music from the '50s, '60s, and '70s, as many people can probably hear. And then all the way back to the '30s and the Delta Blues. I'd say that's my main inspiration for writing."
Produced by Jacquire King, who also produces the Kings of Leon, "A/B" is a mix of southern influences, from soft and sweet folk songs, to blues rock and jagged '70s guitar anthems.
Kaleo is currently on tour in support of their new album.