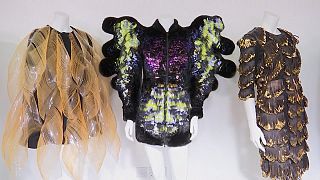 Bjork's unique stage outfits are going under the hammer in London in the coming weeks.
The Icelander is auctioning off the outfits, some of which have been previously exhibited at the Museum Of Modern Art in New York, in a bid to raise money for research for her new groundbreaking virtual-reality project.
Björk met aux enchères plusieurs de ses robes pour financer un projet de réalité virtuelle https://t.co/jh6AD5fprFpic.twitter.com/yR7PC7Hl7d

— bjorkfr (@bjorkfr) May 26, 2016
Kerry Taylor
is the auctioneer:
"It's going to be exciting and interesting to see what happens. The McQueen pieces, they were very close friends, so the McQueen pieces are really, really special. They're one-offs made for her. And then we have a young Dutch designer, Iris van Herpen, and her dresses again, they take three to four months to make. They're all hand-cut and laser-cut. And again they're like sculptures. They've never been on the open market before. So, we're obviously hoping for them to make thousands, but just how many it remains to be seen."
The auction 'Passion for Fashion' takes place on June 14.
In the auction there will be other important lots include two of Princess Diana's most iconic outfits: one sequined blue dress designed by Catherine Walker is estimated to reach up to £100,000 and a blue coat designed by Elizabeth and David Emanuel expected to sell for up to £15,000.