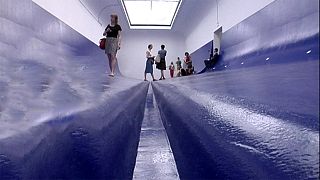 Exposition
Monumenta 2016: Huang Yong Ping Empires, Grand Palais, Paris – until June 18
Chinese-born French contemporary artist Huang Yong Ping, famous for his large-scale works, is the new guest of the month-long event.
Architecture
Mona Hatoum, Tate Modern, London – until August 21
Born in Beirut to a Palestinian family, England's Mona Hatoum challenges our world, exposing its contradictions and complexities, often making the familiar uncanny.
Contemporary Art
Louise Bourgeois, Guggenheim Bilbao Museum – until September 4
Structures of existence: The Cells, an exhibit halfway between architecture and sculpture, is the latest creation by this French artist who has settled in New York.
Architecture
15th International Architecture Exhibition, Venice – until November 27
REPORTINGFROMTHEFRONT is commissioned this year by "social" architect Alejandro Aravena. The Chilean's aim is to awaken our consciences with works from 37 different countries.