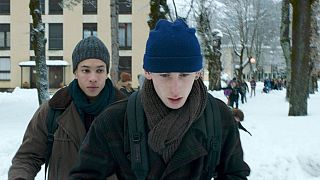 Damien and Tom are two 17-year-old students they are complete opposites. One is the son of a helicopter pilot, the other a farmer. They live in a hamlet at the foot of the Pyrenees.
Ce soir dans le 18h de telenantesinfo</a> je vous conseille le sublime <a href="https://twitter.com/hashtag/QuandOnA17Ans?src=hash">#QuandOnA17Ans</a> d&#39;André Téchiné. <a href="https://twitter.com/WildBunch">WildBunchpic.twitter.com/LxlCvDLwQ1

— Elsa Gambin (@Elsa_Gambin) 14 April 2016
The pair are always fighting and arguing, Until they are forced together their relationship then evolves into more than just friendship.
Le regard d'André Téchiné sur l'adolescence dissèque avec précision et ne laisse pas indifférent pic.twitter.com/wECVu2MuiY

— d'Lëtzebuerger Land (@Letzland) 7 April 2016
'Being 17' is the latest film of André Téchiné a veteran French filmmaker. His view of adolescence is simple and accurate.
It is a physical, natural, sensitive and moving film. The attraction between the two teenagers gives the film its rhythm. Homosexuality is a frequent theme in the work of Téchiné, but here it works as a metaphor for trust in others and life itself.
Enjoy have a good week.