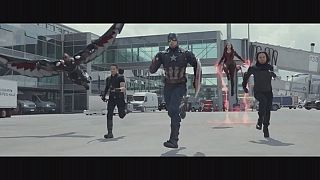 Captain America is back in action – The American superhero film featuring the Marvel Comics character.
The film follows on from both 'Avengers: Age of Ultron' and 'Captain America: The Winter Soldier'. In it, Captain America comes to blows with his Avengers colleague Iron Man when his old best friend and enemy, the Winter Soldier is blamed for a terrorist attack.
The multi-million dollar production had its world premiere in Los Angeles. Since the Marvel comics were launched in the 1930's, the comic heros have an international fan community. Chris Evans aka Captain America has starred in the roles of various Marvel comic characters.
"We don't do this for ourselves," explained the American actor. "We do it so the fans are happy especially with properties like this – these well-known characters that have these die-hard fans with high expectations – it's for them."
Robert Downey, Jr. walked down the red carpet with his wife, Susan, an American film producer. Downey Jr. plays Iron Man, the leader of a faction of Avengers with electromechanical suits of armor.
Daniel Bruhl, who shot to international fame in 2003 in the film "Good Bye, Lenin!", plays Baron Zemo, one of Captain America's main villains.
"It was an incredible experience," said the German actor. "I remember the story when I was a 12-year-old boy and I was amazed by it. When I think about some of the parts of the movie, it's just great. There are moments where you let yourself get carried away and you go 'Wow'."
'Captain America: Civil War' had its world premiere in Los Angeles and will now go on international release. The superhero action film will be also screened in 3D and IMAX 3D.
Let's be civil: @RobertDowneyJr, @AnthonyMackie and @ChrisEvans arrive at the "Captain America: Civil War" premiere pic.twitter.com/r7OwZDN0IE

— Variety (@Variety) April 13, 2016