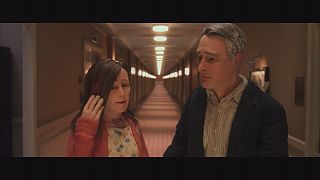 This week in Cinema Box, a highly unconventional stop-motion animation: 'Anomalisa' – directed and produced by Americans Charlie Kaufman and Duke Johnson.
Based on Kaufman's 2005 play of the same name, 'Anomalisa' tells the story of self-help author Michael Stone, who travels to Cincinnati to promote his latest book at a convention.
To a depressed Michael, everyone around him appears the same, including his own wife and son. That is, until he meets Lisa, a fan who has come to attend his speech.
Told entirely with puppets, the film is a veritable technical exploit… To the extent that you end up forgetting altogether that the characters are not played by humans.
As Michael and Lisa get intimate, the magic of the film grows on you, leading to an incredibly tender and moving sex scene – a scene we cannot show you here as it has earned the film an R rating in its home country.
(R Rating = Restricted – under 17 requires accompanying parent or adult guardian) in its home country (the United States).
A heartrending drama that addresses the human within each of us, 'Anomalisa' is a brilliant exercise in creativity, imagination and precision.
I hope you enjoy it as much as I did. See you soon.