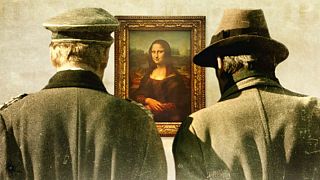 For Alexander Sokourov in his new film "Francofonia. Le Louvre sous l'occupation" Paris represents more than just France, just as the Louvre is more than a building full of extraordinary masterworks.
The art itself stares back into the eyes of war. It is defenseless and at the same time much more powerful than any army in the world.
The art has an eternity at his side, and the war, no matter how long it will take to win or to lose it, one day or another has its end.
Louvre director Jacques Jaujard and German officer Count Franz Wollf Metternich, an aristocrat were both intent on protecting the Louvre's treasures.
Alexander Sokourov asks why the Nazis safeguarded Paris and the Louvre, while destroying many museums of Eastern Europe, especially his beloved Hermitage which greatly suffered during the War.
The danger, as Alexander Sokourov points out, may come any day even to one of the most beautiful cities in the world, but if Paris still has the Louvre, France survives, as does Europe and civilisation.