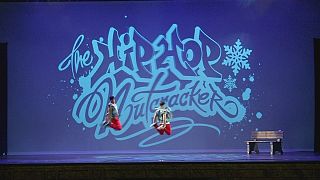 New York City is no stranger to the unusual and innovative and 'The 'Hip-Hop Nutcraker,' is both.

Win tickets to 'The Hip Hop Nutcracker' with special guest Kurtis Blow https://t.co/NGNNnvyLSg#ATLpic.twitter.com/PvUGTLS2iw

— RollingOut (@RollingOut) November 22, 2015
In case you haven't guessed it's where Tchaikovsky meets urban street dance created by Mike Fitelson and Jennifer Weber.

Get tickets to last ny performance of hip hop nutcracker this season. Matinee today @UPTheatre_NYC#lastchancepic.twitter.com/rTj5vGWyoU

— MannersDotsonGroup (@MannersDotson) November 21, 2015
Jennifer Weber choreographed the show: "The Nutcracker is such an iconic dance show. It's like the most famous ballet and I'm really interested in translating classic text into the language of hip-hop. The other thing that ballet dancers and hip-hop dancers have in common is that we're very narrative, we're very character based. So we're really creating a hip-hop narrative with our vocabularies. Of course the main difference between ballet and hip-hop is ballet is very up and hip-hop is very down into the floor."

.@HuffPostLive interviews co-creators & MC @KurtisBlow1 from THE HIP HOP NUTCRACKER. https://t.co/dPzpn637popic.twitter.com/joCFeJUfHr

— The Ordway (@theordway) November 16, 2015
Eleven dances take on the challenge, Derek Matterson is one of them: "It's a little difficult, but you just pick it up, you're a dancer."

We've got tix to the Hip Hop Nutcracker at Ordway on Nov. 24th. Like this tweet to qualify! https://t.co/vrZP98lFz7pic.twitter.com/anRvQGB2lt

— 105 The Vibe (@Vibe105) November 12, 2015
Another troupe member, Fransico Rodriguez, found it a different dance experience:"It's challenging, because it's different. You come from like a, a bouncy beat and you're always grooving, to (sings). And it's like so sharp, and it's like, OK , I've got to switch it up real quick but still have that same mentality for hip-hop."
Rapper Kurtis Blow is in the mix; as a veteran of hip-hop for over three decades, Blow is thrilled to see the two art forms merging: "When you talk about the fusion between classical music and hip-hop – I've always had this love of just the idea of it. And to see it come to fruition right here with the hip-hop Nutcracker is just, music to my ears."

Tchaikovsky on depression and finding beauty amid the wreckage of the soul https://t.co/K7QtMbhF64pic.twitter.com/IEnT5ENK4c

— Maria Popova (@brainpicker) November 22, 2015
The show premiered at New York's United Palace on November 20, before taking to the road on a 12-city tour taking in Miami, Atlanta and Moscow.