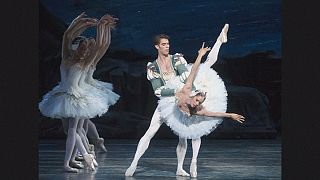 Misty Copeland has been named principal dancer by the American Ballet Theater – the first time a black ballerina has held the prestigious role.
Copeland, who began dance training at the relatively late age of 13, joined the ABT in New York in 2001. She is already a superstar in the dance world, performing some of its most famous roles and attracting enthusiastic young fans far outside the usual ballet audience.
This nomination is a dream came true she said at a press conference: "My dream has been ABT (American Ballet Theatre) since I was 13 and to be a principal dancer is reaching those heights and now I feel like I can breathe but David Hallberg told me this morning, 'The hard work is just now starting.' And I love a challenge and I don't think I could be a part of this field if I didn't like to work hard," she said, fighting back tears.
The dance company announced the promotion shortly after Copeland made her New York debut in Swan Lake, one of the most coveted roles in ballet.
The fact that her being African-American makes it such big news has put the focus on the shortage of leading African-American women at elite companies.
"I had moments of doubting myself and wanting to quit because I didn't know that there would be a future for an African American woman to make it to this level," she said at the press conference.
"At the same time it made me so hungry to push through to carry the next generation, so it's not me up here, and I'm constantly saying that, it's everyone that came before me that got me to this position, and all the little girls that can see themselves through me – it's giving them a brighter future."
Copeland has also appeared in a series of commercials including an Under Armour ad last year, which racked up more than four million views on YouTube within a week.
Earlier this year, she was named one of Time magazine's 100 Most Influential People.