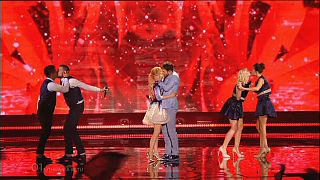 Te remaining ten acts have been selected to go into Saturday's final of the Eurovision Song Contest after a thrilling second semi-final in Vienna.
They complete the list of 27 going into Saturday's final.
1Lithuania – Monika Linkyte & Vaidas Baumila with This Time
2Poland – Monika Kuszynska with In the Name of Love
3Slovenia – Maraaya with Here For You
4Sweden – Mans Zelmerlow with Heroes
5Norway – Morland and Debrah Scarlett with A Monster Like Me
6Montenegro – Knez with Adio
7Cyprus – John Karayiannis with One Thing I Should Have Done
8Azerbaijan – Elnur Huseynov with Hour of the Wolf
9Latvia – Aminata with Love Injected
10Israel – Nadav Guedj with Golden Boy
11Albania – Elhaida Dani with I'm Alive
12Armenia – Genealogy with Face the Shadow
13Russia – Polina Gagarina with A Million Voices
14Romania -Voltaj with All Over Again
15Hungary – Boggie Stamenoz with Wars for Nothing
16Greece – Maria-Elena
17Estonia – Elina Born & Stig Rasta with Goodbye to Yesterday
18Georgia – Nina Sublatti with Warrior
19Serbia – Bojana Stamenov with Beauty Never Lies
20Belgium – Loic Nottet with Rhythm Inside
21Australia – Guy Sebastian with Tonight Again
22Austria – The Makesmakes with I Am Yours
23France – Lisa Angell with Don't Forget
24Germany – Ann Sophie with Black Smoke
25Italy – Il Volo with Grande Amore
26Spain – Edume with Amanacer
27United Kingdom – Electro Velvet with Still in Love With You
Saturday's sparkling finale will be hosted by Irish comedian Graham Norton.