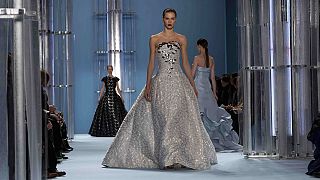 Carolina Herrera is used to causing ripples at the New York Fashion Week.
This time round the designer went off the deep end designing fabrics with droplet like embellishments.
She spoke of what prompted the designs : "This collection is inspired by water, the movement it makes when sloshing around the ocean. All these clothes have the same waviness form as the sea. There are many grays, blues all of the colours of the sea you'll find in this collection."
Herrera's collection stuck to the designers starting point,glamorous clothes for glamorous women.
Rebecca Minkoff went back to early New York punk for her latest collection.
Patti Smiths' memoir 'Just Kids' proved compelling:"This season I read Patti's memoir and I was really inspired by her youth, the raw energy she portrays in the book and that she was in New York at a time that you almost can't recreate today. The '70s and punk rock was just beginning so this collection is really an ode to that."
The 33-outfit runway show included textured jackets and tassels galore on boots and coats.
Because the night calls for a bit of style and street tassel.