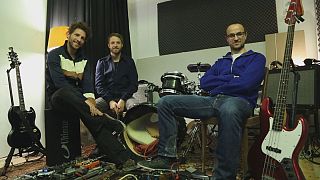 We are in Vienna airport.
Bernhard, Jakob and Bernie of the band Elektro Guzzi are returning from a tour round Iceland, Germany and Croatia.
Since 2009, their lives have not just been made up of music but also of travel.
"So much stuff has happened in these three years. We have recorded three albums, we've been to the United States, Canada, Mexico, we've been touring around all the major festivals in Europe," says guitarist Bernie Hammer.
It's an adventure which started in a cellar ten years ago. Theirs is electro music. But there's no DJ mixing at the decks. This is a band that plays with real instruments.
"When you see us on stage, (most people say) you expect something different, like a rock band, but it sounds like a techno DJ," says Bernhard Breuer, the band's drummer.
There are only eight million people in Austria. It's a small country, mostly famous for its classical music.
For Elektro Guzzi, success meant crossing borders.
"We don't feel famous," says Bernhard.
"Many promoters are interested in what we do so we have a lot of bookings outside of Austria and internationally," he adds.
Even though border customs have all but disappeared in Europe, music doesn't travel easily.
DJ Patrick Pulsinger is the band's producer.
"This whole idea of easy access, of a Europe for everybody is still a young idea and musical tradition in every country has been really strong for a long time. For example, German-speaking music is hardly bought outside of Germany, Austria and Switzerland. At the same time, there are many stars from France that we don't even know," he says.
Radio stations play a major role in promoting music.
In Vienna, electro music fans listen to FM4.
In Europe, on average, national radios broadcast 50 percent American music and 50 percent European music.
If you take away music with lyrics in English or in the country's national language, there's not much room left for anything else.
"It's definitively an advantage that we have no lyrics in our own language, because I see it with a lot of bands here in Austria that have vocals: it is much more difficult to have success outside of the German-speaking countries," says bass guitar player Jakob Schneidewind.
In these times of economic crisis and poor record sales, radios and major record labels take few risks.
So, bands are turning to festivals to make a living.
"It's not like in the old days, when you get fame, you get known by selling records. These days, there are many more festivals because musicians earn their money by playing live," says Bernhard.
Some festivals are a must for up-and-coming bands: every year, thousands of promoters scout the Gröningen Eurosonic festival in the Netherlands looking for fresh talent. That was a turning point for Elektro Guzzi.
"We won this Ebba award there, we got a lot of attention from the media, from festivals and we played a lot, for example, in Holland this year," says Jakob.
This year, Elektro Guzzi picked up the European Union's EBBA award, which rewards emerging artists or groups who manage to reach audiences outside their own countries.
Former laureates include Adele, Katie Meluha and Charlie Winston.
Right now, artists from Great Britain, Romania, the Netherlands and Sweden are those who stand the best chance of making a name for themselves abroad.
For Elektro Guzzi, success must stand the test of time:
"My plan is: I want to have a Ferrari in my life one day, that's my plan (laugh)… No, I just want to have enough money to do my music, that's all I want." says Bernie.
Music in this piece is courtesy of Elektro Guzzi.