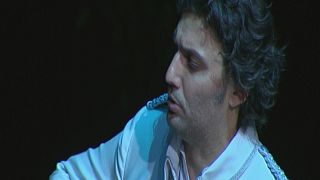 The Opera House in Vienna could be described as a Hall of Fame for the lyrical world. In this year's programme Charles Gounod's Faust is not to be missed. The outstanding cast is topped by Jonas Kaufmann – he is considered by many to be the tenor of the 21st century.
He spoke to euronews about the different challenges this opera provides:
Jonas Kaufmann told us: "At least 95 percent of all operatic parts for a tenor are the good person, it's always the nice guy that gets in trouble through misunderstanding or through evil or whatever. And there are only a few where this changes, and one of them is Faust.
"That doesn't mean that Faust has to be really, really terrible. The decisions he makes are all very selfish, he treats all the others very badly especially Marguerite."
Faust's story is based on the great classic by Goethe: the pact between an old erudite and Mephisto, the devil. His soul in exchange for youth; good versus evil; and life vs death – opposites that haunted the composer himself, as French conductor Alain Altinoglu points out: "Gounod was always split between two worlds: On one hand, he wanted to become a priest, he was very religious. On the other, he loved women so there's this divide between the Casanova, the great seducer, and religion and the church."
Artists are often admired and envied for their privilege of living in the present, of being here and now at the moment of creation. In fact, being a conductor, for example, is somewhat more complicated than that.
Altinoglu explained: "When you conduct an opera there's always a problem: an instrument is not playing, a singer is late and so on. So your mind is almost split, you have to deal with so many things, and at the same time there's the emotional side.
"You can't focus too much on one or the other, if you're totally overwhelmed with emotion you lose control, and if you think too much of organisation you miss the emotional side, so you really have to find a balance."
Managing one's career as an artist also comes with risks and challenges.
Jonas Kaufmann explained: "You have to decide now for things that are planned in five or six years' time, which gives you a kind of secure feeling. On the other hand it's insane – this is an art form, and art has to be free, art has to be spontaneous. Go and ask an important painter to choose the colours for a painting he will do in five years' time. Who knows in which phase he might be in five years, maybe he doesn't even need colours any more!"
This story features segments of Acts I, II & III of Faust, by Charles Gounod.
For more excerpts from our interview with German tenor Jonas Kaufmann please click the following link:
http://www.euronews.net/2012/02/23/bonus-interview-jonas-kaufmann