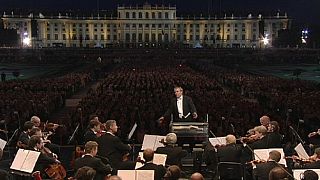 Schönbrunn, the summer residence of the Habsburg Monarchy, has always been renowned for music and elegance.
The highlight these days is the annual summer night concert of the Vienna Philharmonic Orchestra.
On June 2, the orchestra took the audience on a musical journey from Liszt to Paganini and Mussorgsky under the theme 'Virtuoso pictures'.
At the conductor's stand was the world famous Russian maestro Valery Gergiev.
He told euronews: "I'm more then happy when I conduct the Vienna Philharmonic Orchestra. The surroundings and the fantastic atmosphere add to this feeling. So you really feel full of emotion. There is some kind of mystery in performing for such a big crowd."
For most of the audience, it is one of the rare opportunities to easily get a ringside seat to see the sell-out orchestra.
Wolfgang Breinschmid, a flautist with the orchestra, thinks it is important to play for people who may not get a chance to hear them otherwise: "I think it's a good idea to give at least one concert free a year. We have the image of a really expensive, exclusive orchestra. I really enjoy playing for a huge audience, who like to come, and maybe otherwise wouldn't see the concert."
The concert is also a huge media spectacle. It is shown live in more then 60 countries – more than the Eurovision Song Contest.
Director Karina Fibich is in charge of the whole coverage: "You have a concept, which is in the music notes, in the scores. When you're a music director, you can read the scores. Actually you prepare everything at the table, you rehearse here, change what doesn't work, and then you go through with it.
One of her tools is the so-called CamCat, a 'flying camera' which zips along a cord the length of 500 metres, shooting picture from above. In total, Karina Fibich directs 14 cameras simultaneously.
Paganini's complex violin concerto was on this year's programme. The composer and violinist was known as the devil's child because of his extraordinary skills on the violin.
This year, Austrian violinist Benjamin Schmid had the tough job of interpreting the first movement of the concerto.
He explained: "When the Vienna Philharmonic Orchestra really gets going, it's like a racing horse behind you. There's so much energy and so much enthusiasm to work on the musical material and with the musical expression. It's overwhelming."
The Schönbrunn concert also throws special light on Russian composer Modest Mussorgsky – the VPO plays "Pictures at an Exhibition" – a composition that takes the audience on a musical tour of an art display.
Conductor Valery Gergiev is full of praise for the Russian composer: "Mussorgsky was such a brilliant musician that even pop musicians – and not only of our time, 10, 20, 50 even 70 years ago – rearranged his composition. The music is so gripping it just takes you. You feel something, you can't describe. But it's not just another concert. There are only a few concerts a year where so much that can be done for so many people."
Next year Venezuelan conductor Gustavo Dudamel will be taking up the maestro's baton at Schönbrunn.
In this edition of Musica you can hear excerpts from:
Franz Liszt – Les Préludes
Nicolò Paganini – Violin Concerto No. 1 in D Major, 1st Movement (arr. Fritz Kreisler)
Modest Mussorgsky – Pictures at an Exhibition.