Davos 2013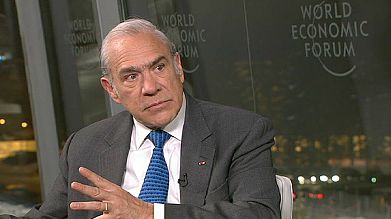 On the third day of the World Economic Forum we look at the different economic outlooks for different parts of the world. While Europe and the US struggle, emerging economies are expected to grow. Euronews speaks to Pascal Lamy, Director General of the World Trade Organisation about how it manages risk. Elsewhere… Read more…
In this report from Davos, euronews correspondent Isabelle Kumar looks at how some of the world's richest business people and world…

24/01/13 19:22 CET
Davos 2013
World economic forum facts
The Davos World Economic Forum gathers an elite of the rich and powerful. Political, business, intellectual and other leaders of society come together here.
Finding ways to tackle the Eurozone crisis will of course be a top priority this year.
The alpine location means local authorities can implement the high level of security required for such an event.
More than 2,600 people are expected to attend this annual meeting.
Bill Clinton, Nelson Mandela, Bono, Bill Gates, Angela Merkel, Kofi Annan, George Soros are all Davos regulars. Vladimir Putin and Yasser Arafat have also attended.
Isabelle Kumar

Davos 2013

blog
As the A-listers arrived in Davos, police marksmen looked down from the snow covered roofs of the picturesque Swiss ski resort. When the World…

23/01/13 19:49 CET

As the great and the good arrive in the postcard-pretty Swiss mountain resort of Davos for the World Economic Forum, scepticism is rife and…

21/01/13 22:26 CET