Earthquake death toll passes 7000 as race to find survivors stretches into night
Comments
By Euronews with AP, AFP, Reuters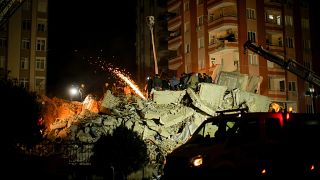 -
Copyright

Francisco Seco/Copyright 2023 The AP. All rights reserved
Search teams and aid poured into Turkey and Syria on Tuesday as rescuers working in freezing temperatures and sometimes using their bare hands dug through the remains of buildings flattened by a powerful earthquake. The death toll soared above 7,200 and was still expected to rise.
But with the damage spread over a wide area, the massive relief operation often struggled to reach devastated towns, and voices that had been crying out from the rubble fell silent.
"We could hear their voices, they were calling for help," Ali Silo said. His two relatives could not be saved in the Turkish town of Nurdagi.
In the end, it was left to Silo, a Syrian who arrived a decade ago, and other residents to recover the bodies and those of two other victims.
Monday's magnitude 7.8 quake and a cascade of strong aftershocks cut a swath of destruction that stretched hundreds of kilometres across southeastern Turkey and neighboring Syria. The shaking toppled thousands of buildings and heaped more misery on a region wracked by Syria's 12-year civil war and refugee crisis. 
Follow the latest developments in our live blog below:
02.07.2023
17:21
Thank you for following our live blog. You can learn more about this developing story on our website or our social media accounts.
02.07.2023
17:19
Debunking misleading content about the Turkey earthquake
One of the most shared videos on Twitter of the search and rescue efforts in Turkey and Syria has been viewed more than 1.3 million times. Multiple buildings are seen crumbling to the ground which the Twitter user attributes to the earthquake in Turkey.
But the video actually dates back to 2021 and shows the collapse of the Surfside condominium in Florida, which killed 98 people. 
Read more at our story here: 
02.07.2023
16:42
Ukraine says it will send search and rescue team to Turkey 
Ukraine will send an 87-strong search and rescue team to Turkey to "help eliminate the consequences" of the earthquake, according to the Ukrainian Cabinet office's website.
Earlier Tuesday, President Volodymyr Zelenskyy issued a separate decree instructing his Cabinet to "ensure the provision of humanitarian aid to Turkey."
(AP) 
02.07.2023
16:39
Three British nationals missing: UK foreign secretary 
At least three British nationals are missing following the earthquake that struck Turkey and Syria, according to the UK's foreign secretary, James Cleverly.
While speaking in the Commons, he said: "As of this morning, we know that three British nationals are missing and the Foreign Office's Crisis Response Hub is working to support the at least 35 British nationals who have been directly affected by these earthquakes."
02.07.2023
16:04
President of Egypt calls Syrian counterpart for first time in more than a decade 
Egypt's President Abdel Fattah el-Sissi phoned Syria's leader Bashar Assad Tuesday, offering condolences for earthquake victims. It was the first call between the two leaders in over a decade. In a statement, el-Sissi said his government would send humanitarian aid to Syria.
(AP)
02.07.2023
14:00
UK issues travel warning for parts of Turkey
Travellers should avoid heading to parts of Turkey, UK authorities have warned - but would-be helpers can donate money instead.
Read more at our story here:  
02.07.2023
14:00
More than 8,000 pulled from rubble in Turkey 
Rescue workers have pulled more than 8,000 people from the debris in Turkey alone. And another 380,000 have taken refuge in the country's government shelters or hotels, Turkish Vice President Fuat Oktay, said on Tuesday.
(AP) 
02.07.2023
14:00
Rescue workers pull newborn from rubble 
Rescue workers in Jandairis, Syria discovered a baby girl born under the rubble of her family home. When she was found, she was still connected to her dead mother by her umbilical cord.
She is the only surviving member of her family.
In the locality bordering Turkey, rescue workers removed the bodies of her father, Abdallah Mleihan, her mother, Aafra, her three sisters, her brother and her aunt from the ruins of their home.
"We were looking for Abu Roudayna [Abdallah's nickname] and his family. We first found his sister, then his wife, then Abu Roudayna, who were huddled together," Khalil Sawadi, a close relative of the family, said.
"Then we heard a noise while we were digging […] we cleared the ground and found this little girl, thank God," he added.