'Sleepwalking into wider war': Guterres says prospects for peace keep diminishing
Comments
By Euronews with AP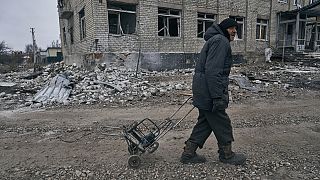 With no hint of Russia and Ukraine moving towards the negotiating table, UN chief Antonio Guterres has issued a stark warning.
The UN Secretary General said the prospects for peace "keep diminishing." Guterres went on to say the Russian invasion of Ukraine is inflicting untold suffering on the Ukrainian people, "with profound global implications."
"The chances of further escalation and bloodshed keep growing. I fear the world is not sleepwalking into a wider war. I fear it is doing so with its eyes wide open," 
Poland is taking additional steps to strengthen its defensive capabilities as Russia's war in neighboring Ukraine enters its second year later this month.
As if to illustrate the concerns by Ukraine's neighbours, Patriot missile batteries that Poland acquired from the US last year have been deployed in the country's capitol Warsaw as part of military exercises.
And the consequences of war are all to real - the funeral of a sodier who died fighting on the frontlines in eastern Ukraine was held in Kyiv on Monday.
He was killed in fierce artillery battles in Bakhmut against Russian troops last month.