Greenpeace activists board vessel carrying Shell oil platform
Comments
By Euronews with AFP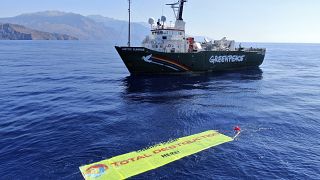 -
Copyright

AP/ Greenpeace
Activists from environmental group Greenpeace have boarded a vessel contracted to Shell as it sailed in the Atlantic Ocean, demanding that the Anglo-Dutch oil giant "stop drilling and start paying".
Four Greenpeace International activists from Argentina, Turkey, the UK, and the US boarded the White Marlin vessel just north of the Canary Islands, the group said.
The vessel is taking an oil and gas platform to the Penguins field, close to the Scottish Shetland Islands in the North Sea.
"The peaceful protest aims to highlight the worldwide climate devastation caused by Shell and the wider fossil fuel industry, who haven't paid a penny towards the loss and damage they've caused," a Greenpeace spokesperson said.
The activists boarded the vessel by rope at 8am GMT on Tuesday, after approaching it in three boats launched from Greenpeace's Arctic Sunrise ship.
Greenpeace said they remain on board and "are now occupying the ship's cargo, a Shell oil and gas platform" with enough supplies to last days. 
"Shell must stop drilling and start paying," Greenpeace Southeast Asia executive director Yeb Sano said.
"We're taking action today because when Shell extracts fossil fuels it causes a ripple of death, destruction, and displacement around the world, having the worst impact on people who are least to blame for the climate crisis.
"We won't stop until we get climate justice. We will make polluters pay." 
For more watch Euronews' report in the video above.