Russian shelling kills at least five civilians in Ukraine on Monday, authorities say
Comments
By Euronews with AP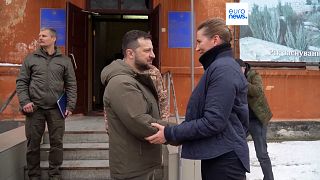 Ukrainian officials have stepped up demands for heavier weapons from Western allies to push back Russia's forces.
The request comes amid reports on Monday of at least five more civilian deaths across the country, eleven others were wounded.
The greatest loss of life was in Kharkiv, Ukraine's second-largest city, where Russian shelling killed four people.
Military analysts from the think tank, the Insitute of the Study of War have said that more aid is critical if Ukraine is to block an expected Russian spring offensive and launch its own effort to push back Russian forces.
Ukrainian President Volodymyr Zelenskyy also said keeping up the pace of allies' support will be crucial.
He reiterated calls for weapons to be delivered as fast as possible and for Western allies to send warplanes to help his defending troops fend off Russian attacks.
Denmark's Prime Minister Mette Frederiksen met with Zelenskky in the Black Sea port of Mykolaiv on Monday to oversee efforts to restore the city's critical infrastructure and meet wounded servicemen at local hospitals.
Denmark was one of the nine European countries that signed the Tallinn Pledge on January 19, a commitment to provide the support Ukraine needs to liberate its occupied territory.
Meanwhile, France and Australia announced on Monday plans to jointly produce and send several thousand 155-millimetre artillery shells to Ukraine. The first deliveries are expected in the first quarter of this year.
French President Emmanuel Macron said on Monday that France hasn't ruled out sending fighter jets to Ukraine, but laid out multiple conditions before such a significant step can be taken.
France has sent Ukraine air-defence systems, rocket launcher units, cannons and other military equipment and has pledged to send armoured surveillance and combat vehicles, but has stopped short of sending battle tanks or heavier weaponry.