Seven killed in attack on convoy of trucks travelling from Iraq to Syria
Comments
By Euronews with AP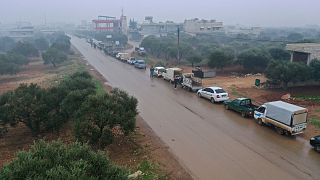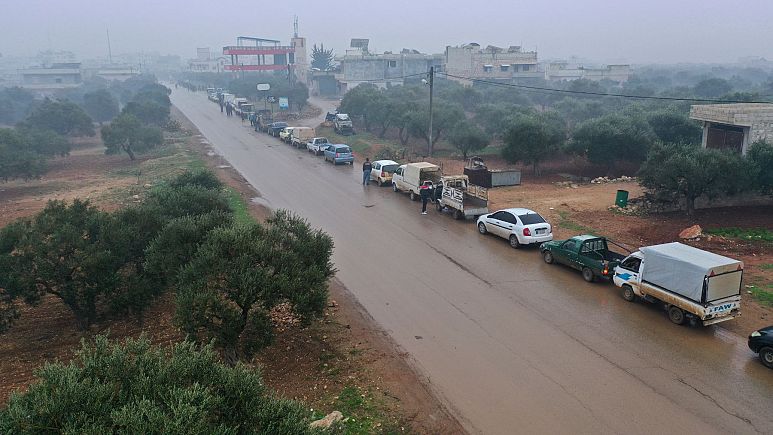 Seven people were killed in a raid by unidentified planes on Sunday evening on a convoy of trucks loaded with weapons from Iran in eastern Syria, a Syrian NGO said on Monday.
According to the Syrian Observatory for Human Rights (OSDH), seven truck drivers or people accompanying them, "all non-Syrians", died in this raid which targeted the convoy in the Boukamal region, bordering Iraq.
The attack targetted six refrigerated trucks, loaded with Iranian weapons, as soon as they entered Syrian territory after crossing the border with Iraq, added the NGO which has a vast network of sources in Syria at war.
"The trucks were loaded with Iranian weapons," OSDH chief Rami Abdel Rahman told AFP. Iran supports the Syrian regime and pro-Iranian militias are deployed in the border region of Iraq.
According to the NGO, at least two similar convoys entered Syria this week from Iraq.
In November, a raid had targeted a convoy of weapons and tank trucks loaded with fuel from pro-Iranian militias in Syria, near the border with Iraq, killing at least 14 people according to the OSDH.
In December, Israeli Chief of Staff Avi Kohavi revealed that his country was behind the raid, adding that the convoy was carrying weapons bound for Lebanon where the pro-Iranian armed movement Hezbollah has a dominating influence. .
Israel rarely claims the raids it carries out in neighboring Syria and which notably target pro-Iranian militias, but has declared that it wants to prevent Iran's military establishment on its border.