Intense bombardment around Zaporizhzhia as residents fear nuclear plant could be hit
Comments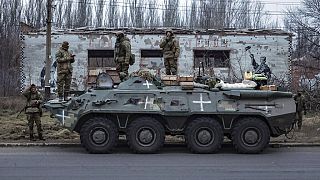 -
Copyright

Andriy Dubchak/Copyright 2020 The AP. All rights reserved
More than 48 weeks after Russia invaded Ukraine it has been another day of fear and fierce fighting, and another day where the fog of war makes it hard to tell fact from fiction.
Ukrainians living near the Zaporizhzhia nuclear power station, Europe's biggest, told Portuguese journalists from RTP they had been under intense Russian bombardment for 48 hours.
Pitro, a resident of the town, showed the journalists a house he said was destroyed by a Russian missile, killing a woman inside. He worried the nuclear plant might be hit.
Pitro said: "That would be a huge problem. Not only for our city but for all of Ukraine and everywhere the wind would blow. This would be very dangerous."
The Portuguese journalists also spoke to a Ukrainian serviceman, Mykola, who was recovering from wounds he received in Bakhmut.
Mykola said: "We, the military, are comfortable being shot at and bombed. We do it because it is our duty, but touching peaceful people is a crime."
On Russian state television, and the social media channel Telegram, there were allegations directed at Ukrainian armed forces of a deliberate attack on a hospital.
Pictures purported to show recent images of a hospital in the town of Novoaidar, with Russia's defence ministry claiming Ukraine had deliberately targeted the facility with an American HIMARS rocket, killing 14 people and injuring 24 others.
Novoaidar is located in Luhansk province, which is almost entirely under the control of Russian forces or Russian-backed separatists.
Russia's Defence Ministry spokesman Lieutenant-General Igor Konashenkov used a daily briefing to give a litany of success stories to illustrate his claim his country's forces were destroying arms supplied to Ukraine by the US and NATO allies.
According to his briefing,16 HIMARS, Olkha, Uragan rockets were intercepted in 24 hours, while a US-made HARM anti-radar missile was destroyed. But that wasn't all.
"Moreover, two US-made M777 artillery systems, two US-made Paladin self-propelled artillery systems, and one US-made AN/TPQ-50 counter-battery radar were eliminated," Konashenkov reported.
None of the general's claims could be independently verified, but it is clear for all to see that Ukraine has experienced another bloody Sunday, just 27 days before the first anniversary of Russia's invasion.