At least one dead and several injured in machete attack in southern Spain
Comments
By Euronews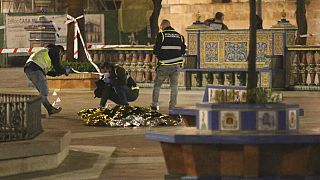 Spanish police say they're investigating a possible terrorist attack after a machete-wielding man killed a church caretaker and injured a priest in attacks at two churches in Algeciras on Wednesday. 
The assailant was arrested in the southern city after he was disarmed. According to local media, the suspect is of Moroccan nationality and around 40 years old.
Three other people were injured when the incident happened just after 7 pm local time. The suspect entered the San Isidro church and attacked a priest causing serious injury.
He then went into a second church, Nuestra Senora de La Palma, five minutes away where he assaulted the caretaker.
The caretaker escaped outside but was caught and fatally wounded.