President Biden says the US will send 31 Abrams tanks to Ukraine
Comments
By Euronews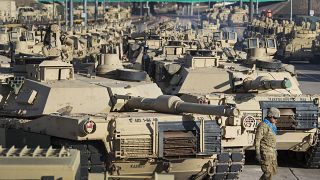 -
Copyright

Christian Murdock/The Gazette via AP, File
The United States says it will send M1 Abrams tanks to Kyiv as international reluctance to send modern military hardware to Ukraine's battlefront begins to erode.
The announcement follows Germany's confirmation on Wednesday that it will supply Ukraine with Leopard 2 tanks and allow its partners to do the same.
This is being seen at the first stage in a coordinated effort by the West to provide more heavy weapons to Ukraine.
For months, Kyiv has been asking its supporters to provide them with the battle tanks in preparation for a renewed Russian offensive analysts expect will take place in spring.
US President Joe Biden said the 31 advanced Abrams battle tanks would be delivered in a matter of months.
Biden's decision reverses months of debate within the his administration about whether they would be too difficult for Ukrainian troops to operate and maintain.
Ukrainian President Volodymyr Zelenskyy has expressed satisfaction at the news, but military analysts say it is not clear how much of an impact the German and US tanks will have on the battlefield.
Meanwhile, the Kremlin's spokesperson, Dimitry Peskov, has described Washington and Berlin's intentions as 'a rather disastrous plan'.
He says 'these tanks will burn down just like all the other ones' adding that the difference was that the more modern tanks cost a lot more.