'It's taking too long': Why are post-Brexit checks slowing down business for Eurostar?
Comments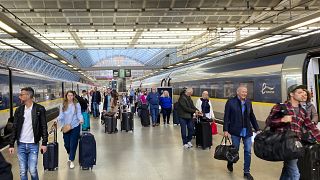 Copyright

Kelvin Chan/Copyright 2020 The AP. All rights reserved

-
Cross-Channel train operator Eurostar complained Tuesday that slower post-Brexit passport checks for travellers are forcing it to run some services almost one-third empty.
The company said that its cross-Channel routes from Paris and Amsterdam to London were being held back by longer passport checks, brought as part of the Brexit vote.
For instance, British visitors using Eurostar must now have their documents stamped as they arrive and leave the EU, slowing their passage even with UK border points in European stations. EU citizens, meanwhile, have to show they comply with British migration rules.
According to Eurostar, the extra time required to check all this information, along with the bottlenecked queues formed, means the rail company can't offer enough seats.
"We haven't been able to return to 2019 levels of service because the border crossing is too slow," Cazenave said.
In 2022, passengers returned but the numbers were still lower. The Eurostar cross-Channel service carried 8.3 million passengers.
Today there are 14 return trips per day, only partly full, between Paris and London. In 2019 there were between 17 and 18 full trips.
Cazenave also added that there were not enough border staff to check passports and that she was concerned about the future introduction of a new digital Entry/Exit System (EES) for the Schengen travel area, expected to start this year.
"We used to ask clients to arrive half an hour before the train, now it's an hour," she said.
Eurostar merges with Thalys
The Eurostar Group now includes the Eurostar service from France and Belgium to London and the French-Belgian high-speed train operator Thalys, linking Cologne, Amsterdam, Brussels and Paris.
On Tuesday, the group unveiled a new joint logo that will adorn trains on both route networks, along with an ambitious plan to grow to 30 million passengers a year by 2030.
Eurostar almost went bankrupt in 2021 and Thalys also sought help from its shareholders.
The new combined group has a debt of €960 million, according to Cazenave.
Watch the video in player above.