Ukraine war: Zelenskyy orders criminal probe into Kyiv helicopter crash and four other developments
Comments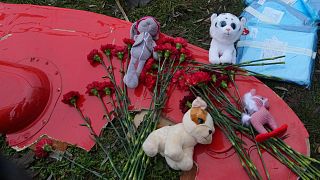 1. Zelenskyy orders criminal probe into Interior Minister's death
Ukraine's President Volodymyr Zelenskyy has ordered the country's security service to carry out a criminal investigation into a helicopter crash that killed 14 people in total on Wednesday. 
All nine people on board the helicopter were killed: Interior Minister Denys Monastyrsky and four other ministry officials, including Monastyrsky's deputy, Yevhen Yenin, and State Secretary of the Ministry of Internal Affairs Yurii Lubkovych; a national police official and the three crew members. The officials were flying to Ukraine's northeastern Kharkiv region.
The aircraft, owned by the State Emergency Services, struck a kindergarten in the eastern Kyiv suburb of Brovary. A child on the ground was also killed, and at least 25 people were injured, including 11 children.
Monastyrsky is the most senior official killed since Russia invaded nearly 11 months ago. He was in charge of police and emergency services that dealt with the consequences of Russian strikes and demining, political analyst Volodymyr Fesenko told The Associated Press.
The helicopter was a French-manufactured Super Puma, according to a spokesperson for Ukraine's air force, Yurii Ihnat. It was sold to Ukraine in 2019, but was not part of the equipment that France has provided since the start of the war on 24 February, according to a French official who spoke on condition of anonymity because he was not authorised to be identified.
Senior officials in Ukraine routinely travel by helicopter at low altitudes and high speed during the conflict, increasing the inherent dangers associated with the flights.
2. Sweden and Estonia increase military support for Ukraine
Ukraine will receive substantial amounts of new military equipment from Sweden, Denmark and Estonia after the three Baltic Sea neighbours announced extra weapons packages on Thursday. 
In a 10th package of military support, Sweden will give 50 infantry fighting vehicles, anti-tank guided missiles and also deliver its Archer artillery system. 
Meanwhile Estonia is committing more funding for Ukraine which takes it to 1% of GDP. It's the country's biggest aid package so far for Ukraine, Prime Minister Kaja Kallas said, and includes howitzers, grenade launchers, and ammunition. 
"The whole transatlantic community must do more and give military aid at greater scale and speed to ensure Ukraine's victory," said Kallas
"Let's look into our stockpiles and ensure our industry produces more, faster," she said. 
3. NATO, US and Germany discussions about sending tanks to Ukraine
NATO's Secretary General Jens Stoltenberg, speaking at the World Economic Forum (WEF) in Davos, has said the only way to a negotiated peace is to give Ukraine support.
German Chancellor Olaf Scholz is key to the supply of modern Leopard 2 tanks - top of Ukraine's wish list. However, Scholz has said while his country will continue to give military aid to Ukraine, he made no mention of heavy tanks in his speech at WEF.
Several European allies are poised to send numbers of the German-made Leopard 2 tanks to Ukraine, but they need the green light from Berlin first. Chancellor Scholz is under increasing pressure from partners to give the go-ahead.
4. EU parliament is calling for a special tribunal to try Putin
The European Parliament wants to establish a special tribunal that could try Russian President Vladimir Putin and other political and military leaders for 'crimes of aggression' in Ukraine.
The parliament says the atrocities committed by Russian forces in Bucha, Irpin and many other Ukrainian towns reveal the brutality of the war and underscore the importance of coordinated international action to bring those accountable to justice under international law, according to the European Parliament press team.
MEPs are urging the EU, in close cooperation with Ukraine and the international community, to push for the creation of a special international tribunal to prosecute Russia's political and military leadership and its allies.
5. Swedish brothers sentenced for spying for Russia
Two Iranian-born Swedish brothers were given lengthy prison sentences on Thursday for spying for Russia and its military intelligence service GRU for a decade in the Scandinavian country's biggest espionage case in decades.
The oldest of the two naturalised Swedes -- Peyman Kia -- was sentenced to life, while his younger brother, Payam Kia, was sentence to nine years and 10 months. They had appeared before the Stockholm District Court where they faced charges of gross espionage for having worked jointly to pass information to Russia between 28 September 2011, and 20 September 2021.
A life sentence in Sweden generally means a minimum of 20 to 25 years in prison. Peyman Kia's lawyer said his client would appeal the sentence, while the younger brother's lawyer said it hadn't been decided yet whether to appeal.
Throughout the trial that was held behind closed doors , both men denied any wrongdoing. Much of the evidence presented and material from the preliminary investigation is secret.
Between 2014 and 2015, Peyman Kia, 42, worked for Sweden's domestic intelligence agency, but also for the country's armed forces. Swedish prosecutors allege that the data they gave the Russians originated from several authorities within the Swedish security and intelligence service, known by its acronym SAPO.
Peyman Kia reportedly has worked for the armed forces' foreign defense intelligence agency, known in Sweden by its acronym MUST, and worked with a top secret unit within the agency that dealt with Swedish spies abroad, according to Swedish media.
Both brothers denied any wrongdoing.